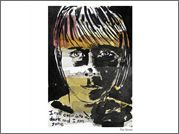 Paul Beck, Allen Brewer & Pat Snow
opening reception: friday, january 13, 7-9pm
exhibition dates: january 13 - february 19, 2012
True Story explores the purity of perception, the accuracy of memory, and the truth of desires. This exhibition features paintings from Paul Beck and Allen Brewer and watercolor mixed media works from Pat Snow.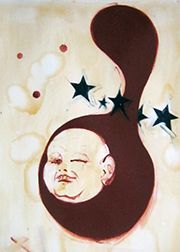 Paul Beck
Paul Beck currently lives in Austin, Texas. He wears many hats including visual artist, filmmaker and animator. As an animator, Beck worked on the feature films Scanner Darkly and Waking Life. He has also written, directed and animated music videos for David Byrne, The Black Eyed Peas and Radiohead. His visual art has been exhibited at AMOA's 22 to Watch and New American Talent at Arthouse.
"I want my work to provoke thoughts first for me, and then for the viewer. I make images for me. That is the power I give myself as a human being. I truly appreciate the viewer's response to the work. I consider art-making a true act of freedom."
Allen Brewer
My recent leanings as an artist have been that of truth and purity of perception. This investigation of form, verity, and accuracy has made me more aware of infinitesimal structures that are crucial to thingness.
For the past few years I have been making drawings using typewriter carbon and found photography, transcribing exacting details from the photo (via carbon) onto a substrate. The result is a "ghost", devoid of any human embellishment or direct mark making. This process has caused me to draw and paint "blindly", or refusing to look at the substrate while I work. Instead, my focus pinpoints every detail and form that makes the subject the subject. By eliminating my own perception of the thing, I am getting closer to its truth.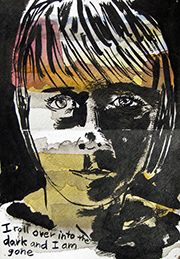 Pat Snow
Pat Snow came to his art practice after studying and working alongside Robert Colescott and Reverend Howard Finster where he was introduced to the use of humor and narrative in his art. Snow has focused on drawing as a medium to express his concerns and desires. He uses the cliché and the vernacular of the storyteller to further his art practice by continuously rearranging the visuals and stories he encounters to critique and explore narrative. He gathers the raw materials for his art from the personal, popular media, bad jokes and art history. He then reconditions them through his own thoughts and feelings. He lets his narrative images flow, allowing one image to slip to another, creating possibilities and a rich, open-ended story. Pat Snow's artistic approach questions how one remembers and constructs a personal history and eventually tests how reliable and trustworthy ones memories are.