The Contemporary Austin's Crit Group
Adrian Aguilera, Christa Blackwood, Christine Garvey, Ron Geibel, Jenn Hassin, Landon O'Brien, Dawn Okoro, and Rachel Wolfson Smith
Opening Reception: Saturday, August 4, 2-4pm
Exhibition Dates: August 5 - September 2, 2018
Artist Talk: Saturday, August 25 at 2pm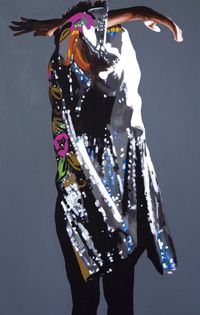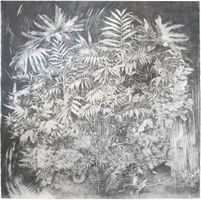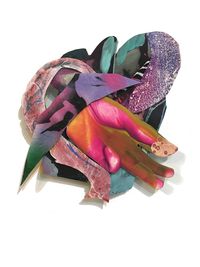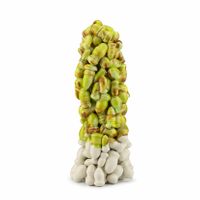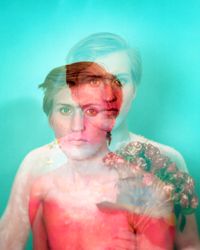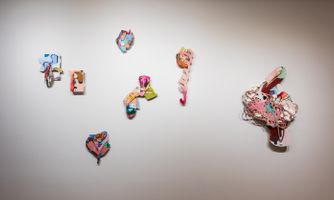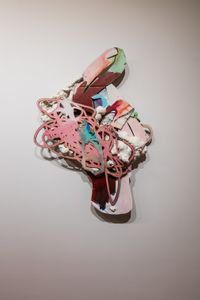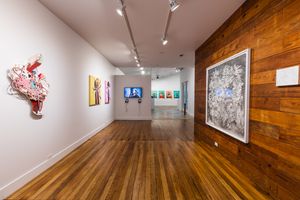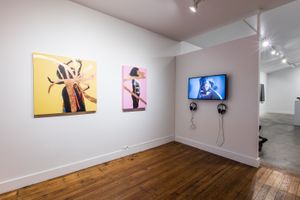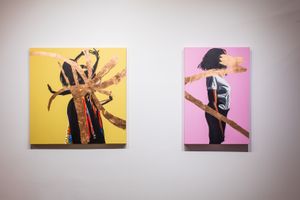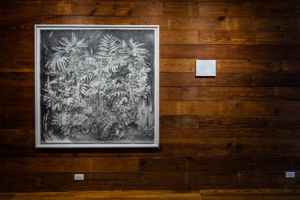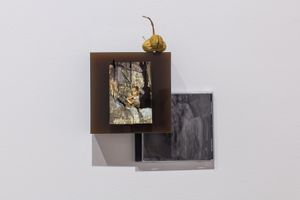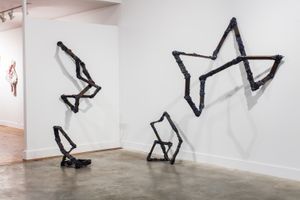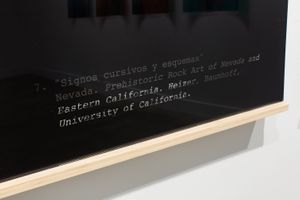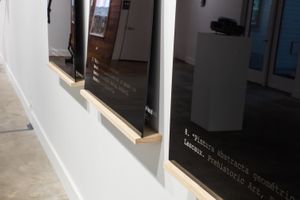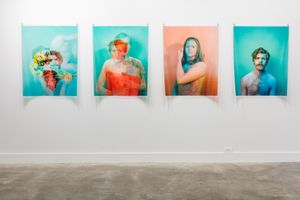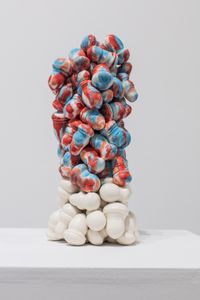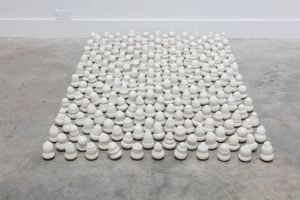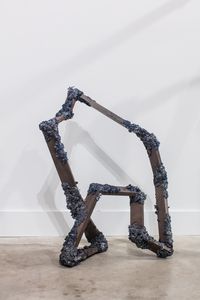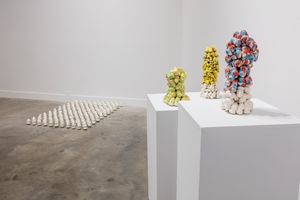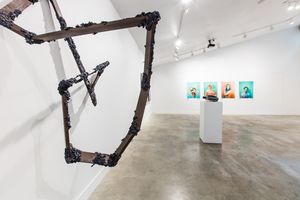 The Contemporary Austin and grayDUCK Gallery are pleased to present the exhibition Crit Group 2018, featuring work by eight artists who participated in the museum's Crit Group—a program that combines group critique with professional development to support the holistic artistic practice of local artists. This seven-month-long program gives Austin artists the chance to strengthen their practices with input from each other and established professionals in the field.
The culmination of the Crit Group program, the exhibition spans the disparate work of these eight provocative Austin-based artists. The exhibition includes a diverse range of sculpture, photography, painting, drawing, collage, installation, and ceramics by participants of The Contemporary Austin's 2018 Crit Group: Adrian Aguilera, Christa Blackwood, Christine Garvey, Ron Geibel, Jenn Hassin, Landon O'Brien, Dawn Okoro, and Rachel Wolfson Smith.
Several artists utilize various media to explore representations of identity and the body. Dawn Okoro's bold painted and video portraiture capture her spirited confidence and self-fashioning. Christa Blackwood's ongoing photography project transgresses standards of beauty and gender by shifting the viewers' gaze to adorned male subjects. Ron Geibel's candy-colored, sensuous ceramic sculptures toy with notions of public and private desires. Christine Garvey's sculptural collage installations of digitally reproduced medical manuals, glossy glamour shots, and vibrantly painted surfaces connect her interests in corporeal fragility and natural resiliency. Adrian Aguilera and Rachel Wolfson Smith use images and text to different ends in their work that reproduces, and sometimes obscures, impressions of the natural world. Jenn Hassin transforms sociopolitically imbued materials, such as military letters or clothing, with layered meanings and an attention to process. The mesmerizing sculptures Landon O'Brien invents draw inspiration from heavy metal theatrics, new age meditative aesthetics, and magical theatrical staging. All of the artists in Crit Group 2018 challenged themselves to work in new ways. While the results are formally and thematically diverse, each artist in Crit Group 2018 is connected by an intense desire to hone his or her artistic practice and by a rigorous investigation of the subtleties of contemporary life, representations of the body, and the natural world.
CRIT GROUP AT THE CONTEMPORARY AUSTIN
Launched five years ago and now with forty-one artist alumni, Crit Group at The Contemporary Austin brings together emerging and established Austin artists to facilitate the growth of their complete artistic practice. Participating artists attend monthly sessions, informal gatherings, and studio visits while receiving group feedback on works in progress. The group also discusses professional development topics such as writing effective artist statements, bios, and proposals; applying for grants and residencies; and what to expect from curators and art dealers. An off-site summer group exhibition and public artist talk round out the program. Crit Group is organized by Andrea Mellard, Director of Public Programs & Community Engagement at The Contemporary Austin, with co-leaders Sterling Allen and Annette DiMeo Carlozzi.
Offered free to selected applicants, Crit Group extends the reach of The Contemporary Austin's vibrant educational initiatives, providing valuable continuing education experiences for professional artists and strengthening the contemporary art community as a whole.
Applications for Crit Group 2019 will open late fall 2018 with a deadline of December 2, 2018, and will be led by Andrea Mellard, Sterling Allen, and Annette DiMeo Carlozzi for a third year in a row.
More information at thecontemporaryaustin.org/explore/for-artists.
CRIT GROUP CO-FACILITATORS AND EXHIBITION CURATORS
Sterling Allen holds an MFA in Sculpture from the Milton Avery Graduate School of Arts at Bard College. He is a co-founder and co-director of Okay Mountain, an artist collective and former gallery based in Austin. As a solo artist and in collaboration with Okay Mountain, he has exhibited, organized, and completed projects at venues throughout the United States and received several residencies, including the Artpace International Artist-in-Residence Program in San Antonio. He is currently an Assistant Professor in Studio Art at Texas State University, where he teaches professional practice, 3D Foundations, and Sculpture.
A champion of local artist communities who stays abreast of international developments, Annette DiMeo Carlozzi has a keen eye for emerging talent and a steadfast commitment to looking beyond labels. Building an expansive practice as a curator of modern and contemporary art, she has created seminal exhibitions, produced important commissions, and acquired major works by a wide range of artists for curatorial and directorial posts in Minneapolis, Aspen, New Orleans, Atlanta, and Austin. Recently retired as Curator at Large from the Blanton Museum of Art at The University of Texas at Austin, Carlozzi is now an independent curator and arts writer. Named to the Austin Arts Hall of Fame in 2013, she has been a consultant, adviser, board member, and/or panelist for over fifty organizations including Creative Capital, Artpace, and UT's Division of Diversity and Community Engagement.
Andrea Mellard is Director of Public Programs & Community Engagement for The Contemporary Austin and founder of Crit Group. She curates programming that takes advantage of the museum's two distinct sites—one urban and the other natural—and provides platforms for audiences to come together, investigate art, and create new experiences. In addition to film series and artist talks, Mellard has curated recent exhibition and performance projects with Janine Antoni, Sanford Biggers, Nick Cave, Lucky Dragons, Ragnar Kjartansson, Mark Lewis, and Mark Mothersbaugh. She has worked with a multitude of emerging Texas artists for the New Art in Austin, Texas Prize and New Works exhibition programs (both at the formerly named Austin Museum of Art and AMOA-Arthouse). She has over fifteen years of museum experience, and an MA in American Studies from The University of Texas at Austin inflects her interdisciplinary approach to contemporary culture.