The Best Available Evidence
Rebecca Marino
Opening Reception: Friday, April 1, 7-10pm

Exhibition Dates: April 1 – May 1, 2016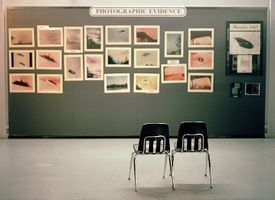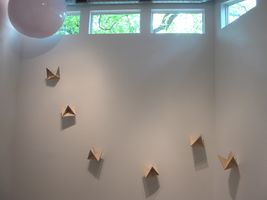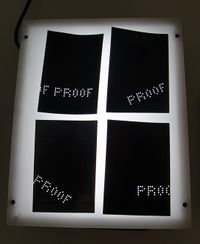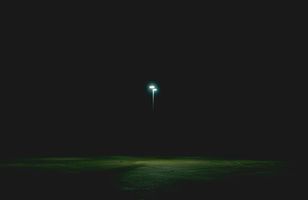 The Best Available Evidence was initially inspired by a found document compiled to prove the existence and legitimacy of unidentified flying objects (UFOs). Using the aforementioned subject matter, this body of work was created as a light-hearted way to play with the idea of proof and to question personal thresholds of belief. What indicates reliability? Truth? These standards are dictated by the tug-o-war of desire and cynicism. By manipulating the vulnerabilities of various mediums and, most importantly, context, new implications arise and connections are made between the mundane and the remarkable.
"In many such cases we are not unbiased observers. We have an emotional stake in the outcome–perhaps merely because the borderline belief system, if true, makes the world a more interesting place; but perhaps because there is something there that strikes more deeply into the human psyche."
- Carl Sagan, Broca's Brain: Reflections on the Romance of Science
Rebecca Marino is an Austin-based visual artist whose work focuses on both intimacy and cosmic perspective. Her work has been featured in TX National, St. Edward's University, and by the Humble Arts Foundation and was recently selected for the Crit Group program developed by The Contemporary Austin. For the past two years she has acted as co-director and curator for pump project, a local nonprofit art organization which also houses her current studio. Marino is co-editor and co-founder of Conflict of Interest, an online publication highlighting the visual art and literary communities of Austin, Texas and serves as an active board member for Austin Museum Partnership. A St. Edward's University graduate, she received a BA in photography as well as a minor in art history.
The exhibition will feature an original soundtrack recorded by Not Now Underground.
Not Now Underground is an experimental songwriting duo creating thoughtful, deliberately conceived music to enhance visual or experiential art. To date, they have produced music for film, animation, websites and dance performances. For The Best Available Evidence, they utilized the concepts of redaction, misinterpretation, and the disquieting feeling of losing a word on the tip of your tongue.