THAT SILKY SMOOTH FEELING
september through october
Guest Curator: Jaime Salvador Castillo
Featuring: Christina Coleman, Clare Finin & Loren Schwerd
opening reception: friday, september 13, 7-9pm
exhibition dates: september 13 - october 13, 2013
"That Silky Smooth Feeling" is about remembering, reliving and resolving. This show explores life-altering events. Hair grows back - Life goes on. The exhibition features three artists that create complex sculptural work that uses hair and hair products as their medium: Sculpture and works on paper from Christina Coleman, memory assemblages by Clare Finin and sculptures from Loren Schwerd.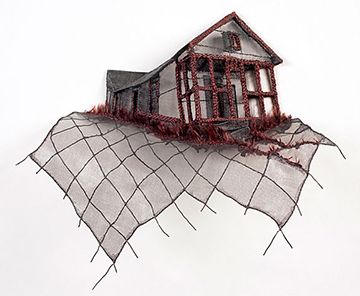 Loren Schwerd
Mourning Portrait is a series of memorials to the communities of New Orleans that were devastated by the federal levee breaches that followed Hurricane Katrina. These commemorative objects are made from human hair extensions of the type commonly used by African-American women that I found outside The St. Claude Beauty Supply. The portraits draw on the eighteenth- and nineteenth-century tradition of hairwork, in which family members or artisans would fashion the hair of the deceased into intricate jewelry and other objects as symbols of death and rebirth. The series began with the small houses. Working from my own photographs, I create metal armatures that act as frameworks for weaving the hair into portraits of the vacant houses of the Ninth Ward neighborhood. By documenting private homes, I venerate the city's losses, both individual and collective.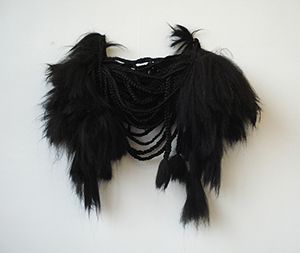 Christina Coleman
My artistic practice is a material exploration encompassing works on paper, sculptures, and installations. I transform ordinary materials into abstracted images and forms, which cause the value of these materials to be considered in new ways. Currently, I am focusing on hair care products and accessories, most of which are popular among African American women such as barrettes and Ampro Pro Styl hair gel. I abstract the more physical and material aspects of these experiences, in order to communicate the moments when for me, hair becomes something other than hair; a metaphor that is able to address ideas outside of itself such as tension, freedom, or entrapment. A large amount of this body of work is inspired by personal experiences I have had involving hair, some of which relate to the broader dialogue of the politics of black hair.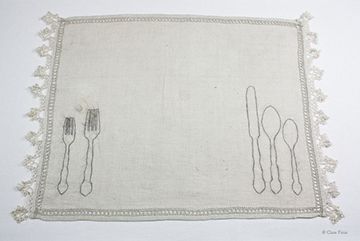 Clare Finin
I am curious about the ephemeral nature of memories and the power they seemingly have over us. How can objects from our childhood still overwhelm us as adults? How do they trigger the strong memories we have left of interactions, people, and events in our lives?
I work with family heirlooms, personal keepsakes, and found objects that activate a familiar feeling. I try to create representations of the memories that surround these objects and give a physical presence to these memory traces from childhood. I utilize the physical act of making as a form of remembering through employing traditional domestic techniques that were once commonplace in my family. Rope making, embroidery, and lace tatting help me remember and feel connected to my childhood and family that I have lost. Like Victorian sentimental and mourning jewelry, I use my own hair as a material in my work. It is with my hair that I become physically tied to those recollections I mourn.