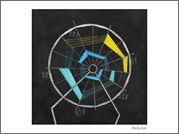 SYMPTOMS OF STRUCTURE
Becky Joye, Rebecca Rothfus & Jason Webb
opening reception: friday, june 15, 7-9pm
exhibition dates: june 15 - july 15, 2012
The potential impact of the modern landscape on our senses is continuous. We not only consume it visually but also assign our experiences and emotions to the visual surroundings. "Symptoms of Structure" is an exploration of our sense of place and memories associated with them. This exhibition features mixed media by Becky Joye and Rebecca Rothfus and paintings by Jason Webb.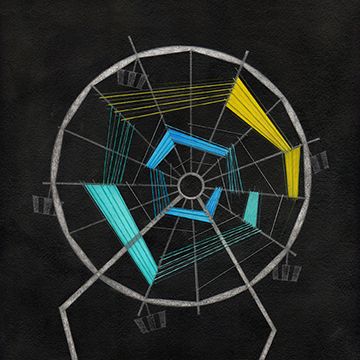 Becky Joye
I find inspiration in observing the overlooked man-made landscape: grand communication towers, worn empty signs, and concrete silos from the car window. With these ordinary utilitarian structures I conceive a story, a character, or emotion to portray and evoke a response within the viewer.
My current work began by discovering a carnival Ferris wheel by the interstate and experiencing the youthful feeling of excitement that I associate with amusement parks. Through referencing carnival and amusement ride structures and the playful objects of childhood, this work is exploring the nostalgic euphoria of spectacle and amusement and instigating the viewer's desire for escape, thrill, and play.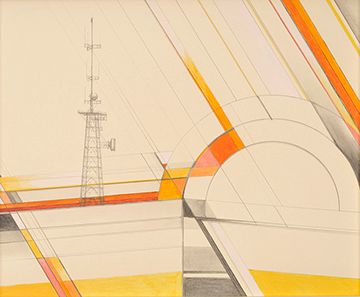 Rebecca Rothfus
For some time now, I have been intrigued by the relationship between cell towers and their surroundings. I find the structures compelling and beautiful, but I also consider them blights on the landscape. The visual contrast between the towers and their physical surroundings becomes even more complicated when one considers what these objects represent. They carry with them a feeling of optimism and progress yet, simultaneously, serve as a negative reminder of our dependence on technology and overdevelopment of land. I incorporate abstract imagery representative of sound waves and rays of sun to further idealize the cell towers. These additions to my images also hearken back to early twentieth century representations of industry and symbols of progress.
Most recently, I have been exploring the notion of the visible/invisible through collographs and single color paper collages. These pieces still contain the cell tower image, as well as abstracted rays and waves. However, when presented in single color format, the viewer must consider whether or not it is important that we notice these towers. Are they made to be invisible or are they made to be noticed? Do we really take the time to look and see how our landscapes are changing?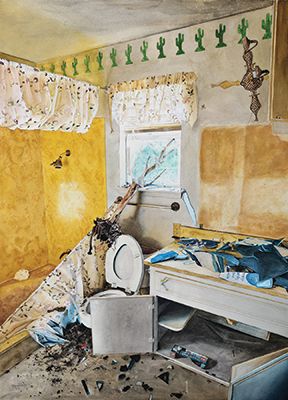 Jason Webb
I explore and photograph derelict buildings, and then create paintings based on those photographs. I'm attracted to the dense, busy aesthetic of these environments. They are filled with objects and surfaces that have been fractured and rearranged through natural forces and acts of vandalism. As a painter, this collision and assortment of surfaces provides a rich framework for sharpening and evolving my visual language.
I pilgrimage to these places as someone who grew up in the relatively sterile world of the suburbs. I report back with paintings that serve to both elevate the subject matter and provide the viewer a chance to discover a fresh aesthetic appreciation for dereliction.