Shawn Smith | Ommatidium
Opening: Saturday, March 4, 7-10pm
Artist Talk: Saturday, April 1, 2:00pm
Exhibition Dates: March 4 – April 16, 2023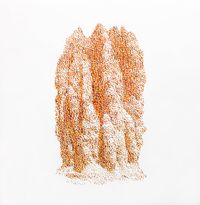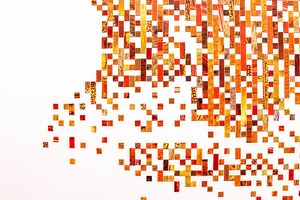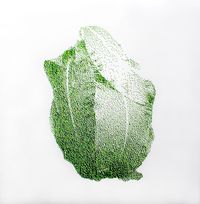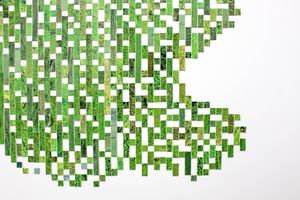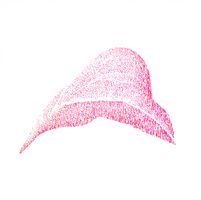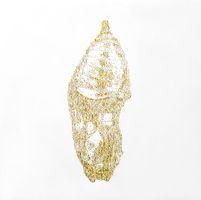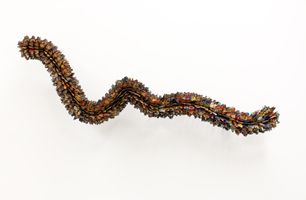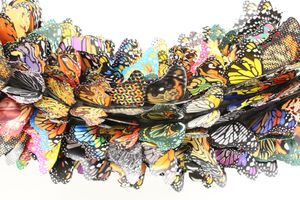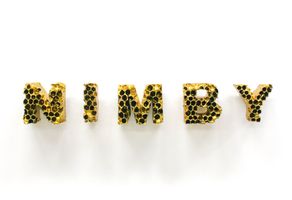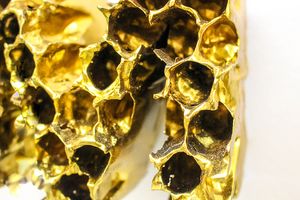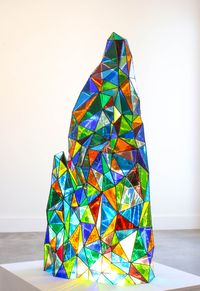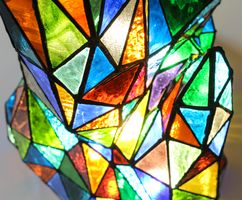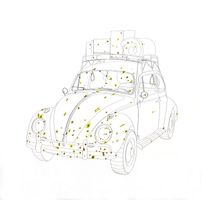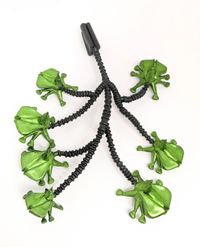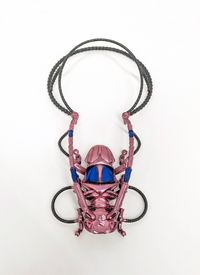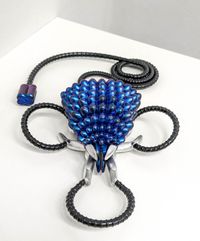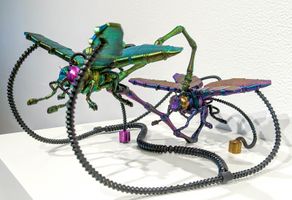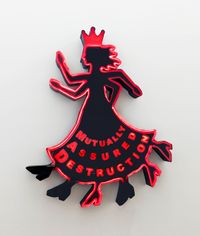 Ommatidium explores our complicated relationship with the insect world. The show investigates the darkly humorous marketing of chemical agents to safely annihilate, the extreme championing of aesthetically pleasing and useful insects over all others, the strangely macabre methods of measuring insect population density, and the overlooked beauty of their complex architecture. Ommatidium refers to the compound eye structure that insects use to view the world. With this exhibition, artist Shawn Smith uses this idea of complex vision to encourage viewers to overcome their innate fear and disgust of insects and see them through a different lens. For Ommatidium, Smith diverges from his usual pixelated wooden sculptures to create two and three-dimensional works in a variety of mediums from drawings and collages, to stained glass and 3D prints.
Bio
Shawn Smith was born in 1972 in Dallas, TX where he attended Arts Magnet High School and Brookhaven College before graduating from Washington University in St. Louis, MO with a BFA in Printmaking in 1995. Smith received his MFA in Sculpture from the California College of the Arts in San Francisco in 2005. He has received artist-in-residencies from the Kala Art Institute in Berkeley, CA and the Cite Internationale des Arts in Paris, France. In 1996, Smith was a recipient of the Clare Hart DeGolyer grant from the Dallas Museum of Art. Smith's work has been exhibited at Hå Gamle Prestegard, National Art and Culture Center of Norway, Gallery Mark Hachem (Paris, France), Kuntsi Museum of Modern Art, (Vaasa, Finland), and throughout the United States including the Austin Museum of Art, Arthouse at the Jones Center (Austin), Galveston Art Center, Yerba Buena Center for the Arts (San Francisco), Southern Exposure (San Francisco), Grand Rapids Art Museum, Oakland Arts Museum, Berkeley Art Center, Richmond Art Center, di Rosa Art and Nature Preserve (Napa), Dean Lesher Center for the Arts (California), Holter Museum of Art (Montana), Northwest Art Center (North Dakota), Lawndale Art Center (Houston), Wichita Falls Museum of Art (Texas), the Armory Art Center (Florida), Scion Installation Center (Los Angeles), the Grace Museum (Abilene, TX), Artisphere (Arlington, VA), and the McKinney Avenue Contemporary (Dallas), among others.
In 2006, Smith was commissioned to create Doppel Fountain, a monumental public sculpture in San Francisco, CA. In 2017, he was commissioned to create Convergence, consisting of 100 sculptures for the new NYPL Westchester Square Library in the Bronx, for which he received a 2018 NYC Excellence in Design Award from the New York Public Design Commission. In July 2019, he installed Burning Bright, a 71 foot long powder-coated steel panther at Fire Station 42 in Fort Worth, Texas. Also in 2019, he created Tower, an 18 foot tall pixelated giraffe commissioned by the US Department of State for their Art in Embassies Program to be installed in Niamey, Niger.
In addition to his public art works, Smith has received commissions to create works for many private and corporate clients including Facebook, Microsoft, Google, Adobe, Fidelity Investments, Boston Consulting Group, W Hotels, Frost Bank, and Wired Magazine-UK, among others. His work is in the permanent collection at the Smithsonian American Art Museum's Renwick Gallery in Washington DC, the National Museum of Wildlife Art in Jackson Hole, Wyoming, the Explora Science Museum in Albuquerque, NM, and the Nasher Sculpture Center in Dallas.
Upcoming projects include exterior public art projects to be installed at EMS1 and AFD23/EMS13 stations as part of Austin's Art in Public Places Program, a 93 foot long suspended indoor installation in the lobby of the new downtown Google building in Austin, TX and, solo shows in Dallas, TX and Paris, France in 2024.