Serene Disturbance
Dameon Lester
Opening Reception: Saturday, September 15, 7-10pm
Artist Talk: Sunday, September 30, 2pm
Exhibition Dates: Sunday 15 – October 28, 2018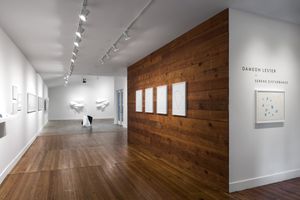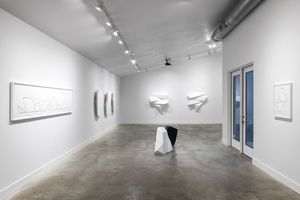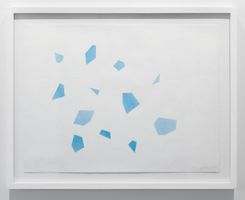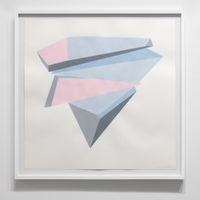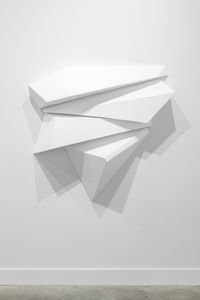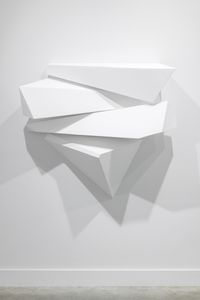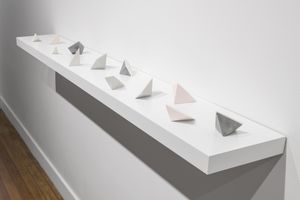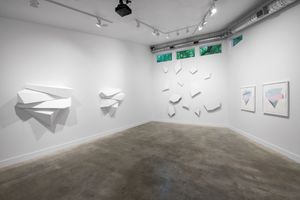 Scattered along the shores of a growing lake, small volcanic rocks disintegrate from endless fractures. Left behind in the wake of a glacier's now constant recession, these scarred tokens from the mountain show an array of colorful shards between their dark crevices. "Serene Disturbance," is the exploration of one such rock. One randomly picked rock from thousands, a perfect example of a broken cycle, a remnant of a pattern now askew.
Emphasizing the trajectory of this disturbance, I made a geometric pattern of the little rock, and carefully returned it to its resting place. From this pattern, I further deconstructed the rock by separating its twelve faces. Each face, each fragment distinguished by surface, line, and color takes shape and floats away as a new sculpture marking the rock's slow return to basic elements. From there, large-scale sculptures create glacial forms calving off the wall just on the other side of the gallery floor. On closer inspection, the cracks and crevices themselves become black outlines, drawings of what once was a solid and foregone conclusion.
The predictable conclusion: that glaciers recede but always return. Now a symbolic metaphor of loss, a loss of climate, culture, and understanding, glaciers have quite literally become an equilibrium out of balance. Meanwhile, I present this metaphor as a stillness, a frozen moment, even a serenity, until the subtlety of awkward forms and aggravating angles creep in as truths to remind us of the perpetual negative uncertainty.
________________________________________________________________
Through the use of modest materials and repetitive minimal shapes, Dameon Lester's artwork abstractly focuses on our cause and effect with nature. Raised in rural Southwestern Virginia, his life as an artist has taken him to many parts of the U.S. and abroad—to live, study, research, work, and exhibit.
Motivated by his newest body of work, he has most recently traveled to both Alaska and Iceland multiple times in a personal search to view, listen, and document the effects of climate change as they are locally presented to him. These direct experiences that help to inform and create his art are the motivation and inspiration into the study of our own self-awareness and connectivity to the planet.