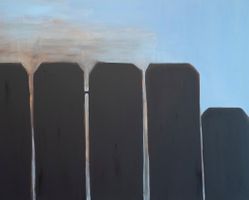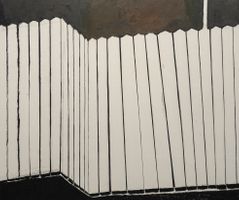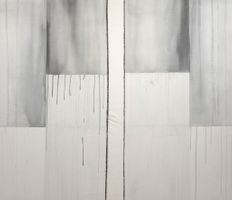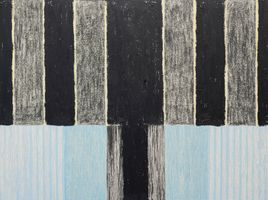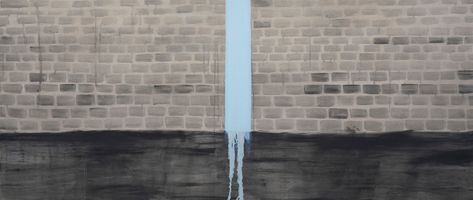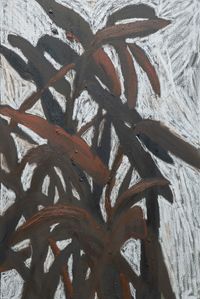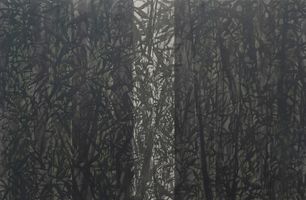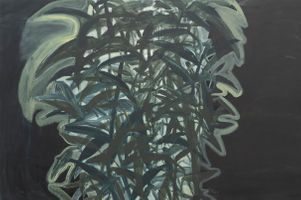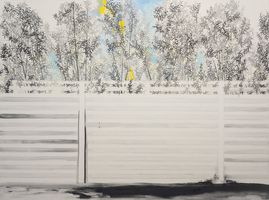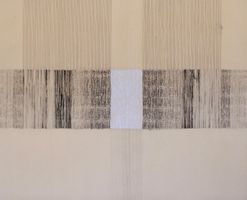 My work and research focuses on the idea of barriers, both as an explicit subject and also more broadly as the psychological and physical manifestation of what it means to be separated. I am interested in the physical structures that determine where bodies are or are not permitted to go, as well as the more socially constructed ones that authorize these spaces into being. Barriers work as a structure that allows me to ask abstract questions about space but also as a material and visual exploration of line, structure, and repetition. My barriers are soft in touch but relentless in the repetition of lines that create the space, translucent in color, and rather light in terms of density of marks. The natural color of the support is left to show through, emphasizing the flat nature of the canvas but also suggesting an ease of passing through. I think of barriers as a place where two things meet, where my calligraphic line, absorbed from growing up surrounded by reproduced Chinese paintings, combine with a modernist minimalistic impulse. The resulting paintings situate themselves between two historically opposing traditions.
My new work focuses specifically on the picket fence, a structure I associate with the traditional suburban American home. These fences are always of medium height and run around the front yard, boxing in the expanse of green lawn. They are never tall enough to seem practical. A determined dog could jump over it or burrow underneath, and no person intent on trespassing would be truly dissuaded by the picket fence. However, it reinforces a distance from others, a separateness-- even if you were friendly with your neighbor, you'd always have to wave over the fence, say hello and speak separated by the fence, unless you took the extra step of opening the gate. And so often the extra effort of opening the gate goes undone, so the rows of neat picket fences stay closed and I can feel the implacable distance, the friendly facade of fresh paint and tidy rows of things disguising a deeper fear of anything that might try to invade the carefully controlled territory of the American home.
I am interested in what gets included and what gets excluded in the vision of American society. What makes one welcome to cross the barrier and what keeps one out? What things get to be seen and what things stay invisible? Can a certain type of invisibility be useful in navigating these barriers?
My research spans the work of many different writers and thinkers. Akiko Busch's new book, Invisibilia, and her other book Nine Ways to Cross a River has also been instrumental in my thinking about what it means to submerge oneself in a type of barrier. Rebecca Solnit's writings on wandering through the landscape have also informed this work, particularly The Field Guide to Getting Lost, Wanderlust, and The Faraway Nearby. Patrick Brantlinger's book Barbed Wire: Capitalism and the Enclosure of the Commons also helped shape my thinking on my most recent body of work interrogating picket fences as well as Bachelard's The Poetics of Space.
Renee Lai is an artist who works in painting and drawing. Lai graduated with her MFA in Studio Art from the University of Texas at Austin in 2020. She holds an undergraduate degree in English and Studio Art with honors from Dartmouth College, and she also studied painting at the New York Studio School. Lai's work has been exhibited nationally and internationally, and she has work in the permanent collection of Dartmouth College. She most recently was an artist in residence at Vermont Studio Center.