Practical Acts of Perception
Cande Aguilar, Jorge Purón & Mauricio Sáenz
Opening Reception: Friday, December 15, 7-10pm
Exhibition Dates: December 15 – January 14, 2018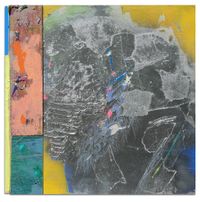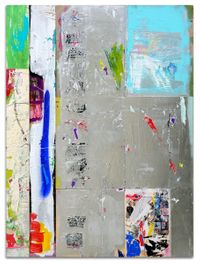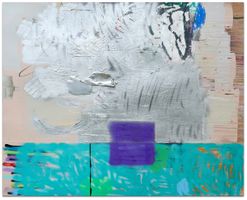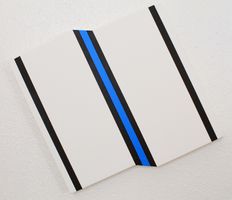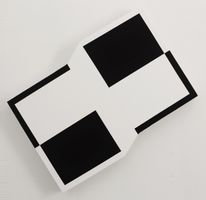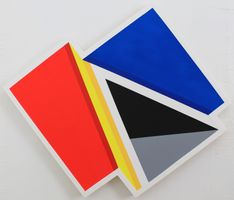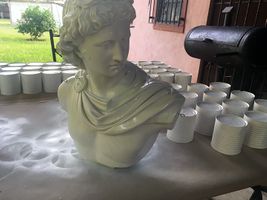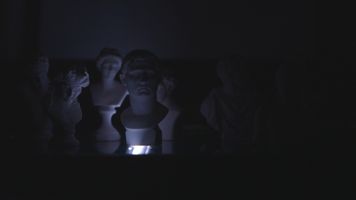 "Practical Acts of Perception" takes its leitmotif from the idea of scale, and indeed the work presented by Cande Aguilar, Mauricio Sáenz and Jorge Purón all utilize proportion as a device to augment or degrade your perspective. However, they look further into the concept by commenting on scale as it relates to time and even color. Launching from the design of the IFRAO Standard Scale used to document archaeological remains, each artist departs and interprets the idea of scale in their own terms.
Aguilar's work, for example, challenges the approach to abstraction by using different scale formats yet employing same aesthetic values, thus testing the viewer to witness the same depth and impact despite the contrasting sizes. Reinforcing the idea of putting the eye to the test in the way it perceives "scale". Purón's hard-edge geometric forms examine landscape undergoing distortion based on technical issues such as depth, angle, and enclosures to convey a sense of a vast place by means of an encapsulated vision. In a more conceptual manner, Mauricio Sáenz's oeuvre draws references from art history by cross-examining the impact past art icons have left through time limiting and colliding with the perception on modern life and its reality. In this way, the collection presented reiterates, through a varied spectrum of possibilities, the fluctuation of points of view of something that when placed in front of a mirror might be destined to give an accurate reflection yet suffers an alteration as a result of the strategy used to observe it.
Cande Aguilar (b. 1972, Brownsville, Texas) is a self-taught artist who reflects on border culture through his BarrioPOP distinctive style. At the young age of 10, Aguilar embarked on a music career, and at the age of 13 recorded his first album. As a musician, he toured the United States and received numerous awards. Life on the road allowed Aguilar to mature and gain inspiration from diverse cultures. In 1999 he produced his first oil painting, and has since accumulated an impressive body of work. In this short period, he has shown his passion and dedication for the arts. Aguilar defines his BarrioPOP style as an amalgamation sprung by characters, colors and street phenomena. His work has been featured in shows at The Brownsville Museum of Fine Art, Craighead Green Gallery & Kirk Hopper Fine Art in Dallas, K Space Contemporary in Corpus Christi, TX, The Painting Center in New York City, Studio Apothiki in Cyprus and the Texas Biennial 2017 in Austin.
Jorge Purón (b. 1969, Piedras Negras, Mexico) is a self-informed painter who lives and works in San Antonio, Texas. His art is influenced by a life lived on both sides of the US-Mexico border. With over 100 national and international solo and group exhibitions, his work has been shown at the Museum of Geometric and MADI Art in Dallas, Texas; Museo Alameda in San Antonio, Texas; Brownsville Museum of Fine Art in Brownsville, Texas; El Paso Museum of Art in El Paso, Texas; Museo Reyes Meza in Nuevo Laredo, Mexico; Instituto Allende in San Miguel de Allende, Mexico, among others. In 2002, he co-founded Jardin del Arte a project to promote artists in San Miguel de Allende, and in 2010, he was appointed Advisor to the Municipal Council of Culture in the border city of Piedras Negras, Mexico. He has also worked in cinema as an Art Director and Set Designer for independent short and full-length films. Most recently, his work was selected for the juried Biennial: Origins in Geometric Art, (2017)
Mauricio Sáenz (b. 1977, Matamoros, Mexico) is a visual artist with a practice spanning installation, sculpture, and video. His work explores the limits of impossibility as an active drive for transformation represented through notions as isolation, uncertainty and historical memory. He received a master's degree from the Polytechnic University of Valencia in Spain and has displayed his work at the Museo de Arte Carrillo Gil in Mexico City, Galerie Art Virus in Frankfurt, Jonathan Ferrara Gallery in New Orleans, and currently at the Craft & Folk Art Museum as part of the Pacific Standard Time: LA/LA initiative in Los Angeles. He has also participated in video art festivals such as the European Art Media Festival in Germany where he was nominated for the Dialogpreis of the German Ministry of Foreign Affairs, Proyector and MADATAC in Spain, Traverse and Instants Vidéo in France, and FIVA in Argentina, among others. He was recently nominated for the LOOP Discover Award in Barcelona.