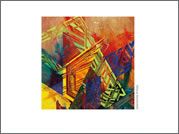 PATTERN PLAN
Dameon Lester, Jessica McCambly & L. Renee Nunez
opening reception: friday, september 30, 7-9pm
exhibition dates: september 30 - october 30, 2011
Pattern Plan showcases artists Dameon Lester, Jessica McCambly, and L. Renee Nunez as they explore humankind's relationship with nature. Using repetition, negative space, and movement, these mixed media artists speak to both our detachment and captivation with the world around us.
Dameon Lester
Dameon Lester's work playfully juggles naturally occurring and man-made materials through processes both machined and handcrafted. "My art attempts to reconcile the natural and manufactured into some form of a shared expression. However, the art often reveals awkward relationships of oppositions that have a strangely innate beauty and peculiarity. In a search to understand this fractured and convoluted relationship, the disconnect between ourselves and nature generates endless repetitive forms." Lester currently lives and works in Austin, TX. He received his BFA from Virginia Commonwealth University in sculpture, and he received his MFA from the University of Nevada. During the last 15 years he has traveled internationally in his studies and exhibited work in numerous galleries across the US. His art is a result of his interest in how nature and human nature come to terms with each other.
Jessica McCambly
Jessica McCambly is interested in the communicative power of line and mark making as well as the excitement of rhythm and movement found in nature. She sees elegance in fleeting moments and in simple organic movements. As she says in her artist statement, "I am interested in the potential for beauty, emotion and nuance within an aesthetically minimal context. Formal simplicity can evoke complexity and intimacy in experience."
Jessica McCambly lives and works in San Diego, CA. She earned a BFA and an MFA in Painting and Drawing from the University of North Texas, College of Visual Arts and Design. Currently, McCambly is an Assistant Professor of Art at Crafton Hills College in Yucaipa, CA. Her work has been shown at the Dallas Museum of Art, the Santa Monica Museum of Art, The Dallas Contemporary, BLOK Gallery in Belgrade, Serbia and was included in the London Biennale.
L. Renee Nunez
Renee's work focuses primarily on pattern, negative space and endangered plants. Recently her work has included large scale installations and collaborations for the Kathy Dunn Hamrick Dance Co. and First Night Austin. She has exhibited in Texas, Tennessee, Colorado, and Mexico and been published in Glamour Magazine (Italy) and El Norte - Vida (Monterrey, Mexico).Renee's background as a professional modern dancer greatly influences her as a visual artist and contributes a love of motion to her work. "The desire to activate a particular set of circumstances in painting fuels the creation of the body of my work. Most compelling to me in this process is the use of negative space to visually manifest a network of contiguous parts.
I have found that the process of gleaning negative space requires a great deal of ritual pattern and because of its omnipresence it has become a subject itself. The desire to transform this network has led me to use different media and to move between two and three-dimensional works."
"The idea of a network of contiguous parts interests me because it mimics the unity of matter and raises questions about the space that exists between two material objects."