Occupied curated by M.E. Laursen
Exhibition Dates: August 7 – August 23, 2020
Gallery hours: By appointment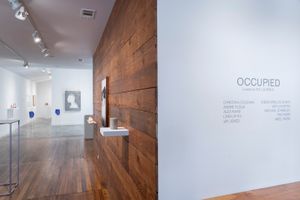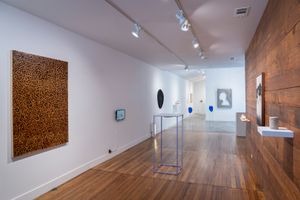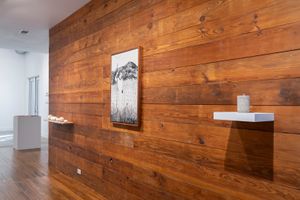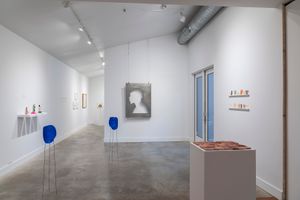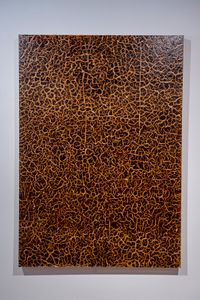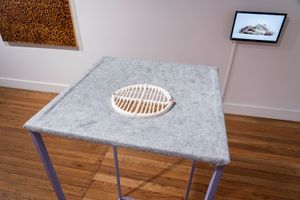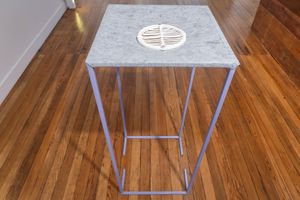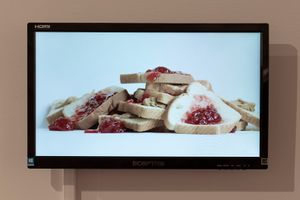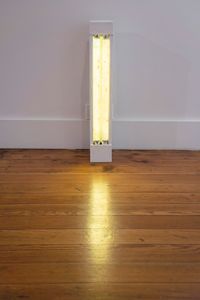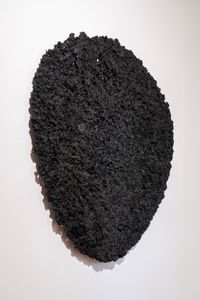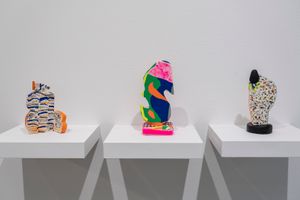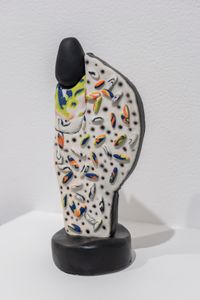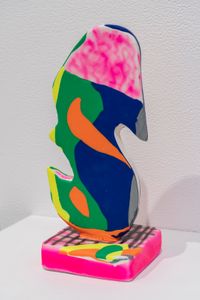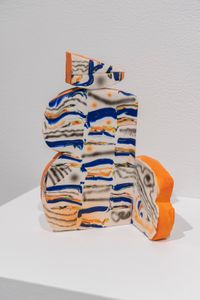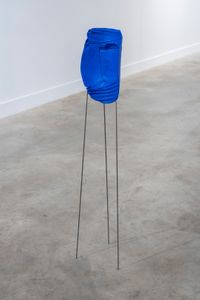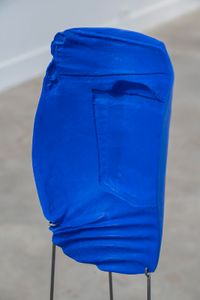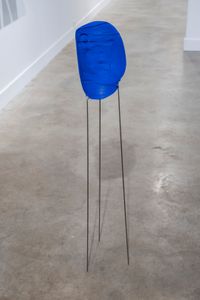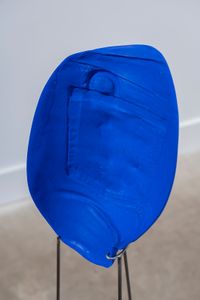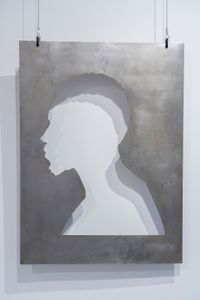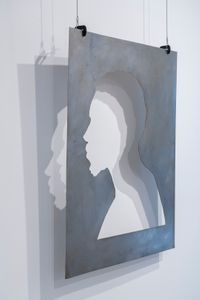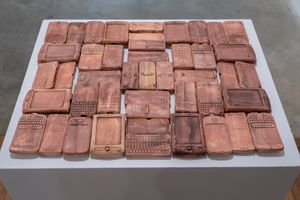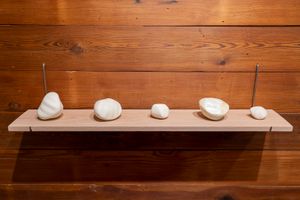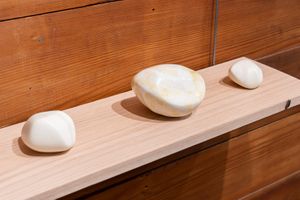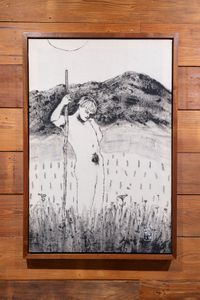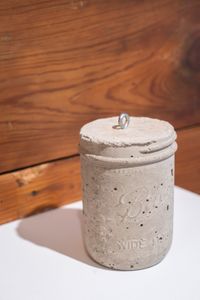 Occupied Exhibition - verbal gallery guide
Occupied curated by M.E. Laursen
The body is a container in which we carry our thoughts, feelings and experiences. In meditation, insights are acquired through connection between the mind and body. Likewise, artmaking is a process of materializing these mind/body connections. This group show collects specific and partial aspects of the experience of occupying a body from each artist's perspective through both new and reactivated work.
Featuring work by: Christina Coleman, André Fuqua, Alex Kang, Ling-Lin Ku, Jay Jones, Diego Mireles Duran, Weylin Neyra, Rachael Starbuck, Tino Ward, Ariel Wood
Recent global circumstances have drastically shifted spatial relationships between the self and others. Never before has there been such dedicated time to be in and aware of one's own body. Bringing together ten artists from across Texas, Occupied explores metaphorical and formal relationships to the body from lenses of different political, sexual, spiritual, and technological frameworks.
The artists in this exhibition connect their own relationships to the body with their artmaking practices. Investigating both the body as space and the body in space, each artist allows their new and newly activated works to serve as extensions of their body, small fragments of their corporeal experiences. By interpreting the body's interior presence as well as its relation to its surroundings, each artist is able to identify an evolving understanding of the self as it relates to the physical form.
The exhibition title alludes to the space that thoughts, feelings, and experiences take up in our bodies as we move through the world. Occupied by these provocations, our bodies are both ever-present and ever-perceived. Beyond this literal definition, the word 'occupied' connotes notions of work, property, sexuality, cultural roots and materials, and censorship; all of these ideas are closely tied to how each of us navigates in a bodily sense through space and time. The works within Occupied highlight the continuing pleasures, queries, and anxieties related to ever-evolving understandings of the body and its relationship to a current environment.
In speaking with the featured artists, I was able to grasp a great understanding of the connections between these works, the ways in which their practices are in communication with one another. For example, artist Ariel Wood in explaining her work, release/return (2020), noted "My interest in drainage and plumbing stems from its metaphorical relation to communication and the body...The drain acts as both a stand in for the body, as it visually resembles a rib cage, and a filter that allows certain things to pass through it while holding some back." Many of the works explore the notion of a bodily element as part of a larger system or whole. " I feel our works are connected through expressions of self identity in varying mediums. If our body is like a container, this is an exhibition of the diverse and nuanced experiences within each container," remarked artist Weylin Neyra. Speaking with these artists enabled me to review my own curatorial practice as one deeply rooted in figurative expression. Each work within this exhibition allows for reflection upon the fundamental essence of human gesture.
Jaelynn Walls is a curator and culture writer based in Texas. She is the 2019-21 Andrew W. Mellon Curatorial Fellow at The Museum of Fine Arts Houston and creator of Art in Color, an educational art history Youtube channel.
Christina Coleman
Christina Coleman is a visual artist working in sculpture, drawing, and installation. She holds an MFA from the University of Texas at Austin and a BA from the University of California at Los Angeles. Utilizing various materials, ranging from commercial hair care products to traditional fine art tools, Coleman works through subjects including the human body, space, identity, materiality, and abstraction. Her work has been exhibited in solo and group shows throughout Central Texas including Texas A&M International University, the George Washington Carver Museum and Cultural Center, and Mass Gallery. From 2016 to 2017 she was a co-curator at de stijl | PODIUM FOR ART, a gallery in Central Austin. https://www.instagram.com/combsandshoelaces/?hl=en
André Fuqua
André Fuqua was born in St. Louis, MO and raised between the Midwest and rural Alabama. He received his BS and MS in civil engineering from Columbia University and studied painting and drawing at the School of the Art Institute of Chicago. His practice is rooted in sculpture, photography, and design. Fuqua uses construction materials— steel, wood, and concrete— to create art that explores symbolism, identity, and cultural privilege. Fuqua has strong interests in material ethos, the built environment, and the American South. He has exhibited in spaces across the US, most notably the Art Institute of Chicago and Museum of Science and Industry. Fuqua currently lives and works in Austin, TX. https://www.andreishere.us/
Alex Kang
Alex Kang (b. 1989, Busan, South Korea) is a sculpture, installation, and video artist currently living and working in Houston, Texas. Kang graduated with a BFA in Photography from the University of Texas at Arlington in 2016, and completed her MFA program at the University of Washington in 2018. Kang has exhibited her work at the Henry Art Gallery, Seattle, WA, The Jacob Lawrence Gallery in Seattle, WA, Modern Art Museum of Fort Worth in Fort Worth, TX, and various spaces in Dallas, TX such as Artspace 111, Gallery 76102, and 500X Gallery. Kang was nominated as a finalist as a part of the Spring Art Walk Awards hosted by City Arts Magazine in Seattle, WA. She is currently a Visual Arts Instructor at a college preparatory school in Houston, TX while working independently regarding her studio practice. http://www.alex-kang.com/
Ling-lin Ku
Ling-lin Ku's studio is a playground and an alchemy of the world where she plays in between the digital data and tangible materials through digital fabrication. Born in Taiwan and based in the U.S., she received her MFA from the University of Texas at Austin in 2019 and BFA from Virginia Commonwealth University in 2016. Ling-lin has been exhibited her work in cities ranging from Salzburg (Austria), New York, to Austin and LA, and selected into residencies including International Studio and Curatorial Program (ISCP) in Brooklyn, Summer Academy in at Salzburg, Austria, Haystack Open Studio Residency, Ox-Bow School of Art, and Helene Wurlitzer Foundation at New Mexico. She is the recipient of Seebacher Prize in Fine Arts awarded by American Austria Foundation and the winner of Umlauf Extended Prize in 2019 and Houston Artadia Fellow in 2020. https://linglinku.com/
Jay Jones
Jay Jones is an artist and designer living and working in Austin, TX. His work, often subversive in nature, navigates themes of technology, consumerism and mass production with a lucid awareness of their role in the artist's own nostalgia. Jones doesn't need to reach far for inspiration; he uses personal experience to mold artifacts belonging to his own Millennial generation, humanity's first digital natives. Almost exclusively using traditional materials, his pieces elevate the mundane and push the ordinary into a different realm. Although he rarely abandons a sense of levity, his work challenges viewers to abandon their own assumptions and see beyond the object's default function. He received his BFA in both Studio Art and Communication Design from Texas State University in 2015 and works full time as a graphic designer. http://www.jayjonesdesigner.com/
Diego Mireles Duran
Diego Mireles Duran is an Interdisciplinary artist based out of Austin, TX and currently working out of Oakland, California. Their creative foundational work is in painting and cooking, and has evolved over the years into sound, performance and currently sculpture. Through these various mediums DMD cultivates a discipline to access internal avenues for self study and radicalization. Through their practice they explore the historical inheritance of brownness and nurture the vitality of queerness. Their art practice is a tool for personal healing, transformation and liberation. The optical language communicated by DMD exists within a revered and contextualized ancestral history. DMD harvests a vernacular from the natural evolution of pre-columbian use of shape and color as well as Latinx cultural narratives in a celebrated and weaponized manner like a fist in the air. Through their own personal vocabulary they are able to root themselves and transcend beyond the western Eurocentric formulaic approach in expressive language. Between the Fall for 2019 and Spring of 2020, their most recent work has been shown alongside Burnside, Carlos Rosales-Silva and Eric Manuel Santoscoy- Mckillip At Mass Gallery in Atx as well as Spring Break art Show in NYC. https://www.instagram.com/fayeg0/?hl=en
Weylin Neyra
Weylin Neyra is an interdisciplinary artist specializing in paintings, drawings, and film photography. His paintings range from color drenched surrealism to blanched minimalism. Much of his work is inspired by characteristics of the human condition and challenging how we view masculinity. He weaves his hispanic lineage through the details of his work while effortlessly capturing the body language of certain emotion. http://www.weylinneyra.com/
Rachael Starbuck
Rachael Starbuck is an artist, educator and organizer who lives and works in Austin, TX. In her practice Starbuck navigates how a body moves through space, is defined or indistinct, present or absent, solid or yielding. Her work negotiates, touch, desire, intimacy and communication across distance. Working between sculpture and video she makes fluid, feeling objects that are sensitive to their environment. Starbuck is a co-founder of the nomadic curatorial project Partial Shade and a founding member of MATERIAL GIRLS, a non-local artist collective of female-identifying sculptors and digital artists. She received her MFA in Studio Art from the University of Texas at Austin in 2017 and her BFA in Sculpture + Extended Media from Virginia Commonwealth University in 2011. Starbuck has been a resident at ACRE Projects, The Contemporary Artists Center at Woodside, The Wassaic Project and The Vermont Studio Center and has shown work in Richmond, VA; Providence, RI; Chicago, IL; Austin, TX; Houston, TX; New York, NY; Los Angeles, CA; and London, UK. https://rachaelstarbuck.com/
Tino Ward
Tino Ward is an artist, papermaker, and bagel baker based in Dallas. He earned a BFA in 2009 from the Cooper Union in New York, and an MFA in 2020 from Southern Methodist University in Dallas. https://tinoward.com/
Ariel Wood
Ariel Wood is a sculpture artist from California by way of Wisconsin. She received her BFA in printmaking, drawing, and painting from UW-Madison in 2016. Wood went on to receive a Post-Baccalaureate certificate from Santa Reparata International School of Art in Florence, Italy where she began her work in sculpture and installation, manipulating found objects to fashion anthropomorphic situations. She is currently an MFA candidate at the University of Texas at Austin in the Sculpture Department where she is working with organic and industrial materials to construct installations that deal with organizational systems and structures. Her work maintains a focus on the body, communication, and the creation of relational space. http://www.ariel-wood-art.com/
M.E. Laursen
M.E. Laursen, a born 'n raised Texan, is an artist, independent curator, and community organizer living in Austin, TX. Previously the Associate Director & Curator at Pump Project, she now contributes to several arts organizations in areas of communications, community engagement, art consulting, and curates independently. Since receiving her BFA in Studio Art at The University of Texas at Austin in 2015, she has focused on leadership development, team communication, and development in various fields. Her experience has reinforced her commitment to advocating for programs and space at the intersection of artists and community. During her free time she volunteers and work trades for organizations she loves.
We are committed to providing services to ensure the art on view is accessible to all. An audio guide and an accessible list of works are available by request. Contact duckduck@grayduckgallery.com to request specific accommodations. Please consider advance notice for arrangements.
This project is supported by donations from donors. Thank you for your support.