HOLY FOOL
Terry Maker
opening reception: friday, march 27, 7-10pm
exhibition dates: march 27 - may 3, 2015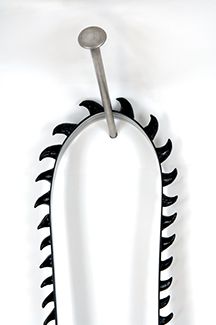 Terry Maker
In my art-making process, I use a variety of commonplace, discarded, domestic objects combined with traditional art making materials to compose sculptural forms that are subsequently cast, cut, drilled and scraped to reveal the "guts" or the polished veneer of the matter.
Through this process, I curate selected forms that become-or represent-specific, symbolic codes or grammar that speak to the physical and spiritual concerns of the human condition – specifically, the force of attraction to temporal concerns in this ephemeral, transitory world in which we live.
"Holy Fool" addresses desire and human initiative in light of the [obvious] awareness of our ultimate end - a seemingly contrary companion on life's journey.
With this body of work, I investigate the conundrum of this reality with various sculptures that symbolize the gravity, pathos and, sometimes, comedic state of the human situation and the quest for an exit plan or possibility of redemption.
Various works throughout "Holy Fool" symbolize this pursuit, while the shape of the circle or oval, a symbol of unity, wholeness and eternity, anchor the conceptual dialogue.
The oversized "Belts on a Nail" series speaks of indulgence and overconsumption. The supersized self-portraits in candies, "Self Portrait in Tootsie Roll Pop" and "Self Portrait in Sugar Daddy" are self-deprecating images of the artist, deeply embedded inside "the sweet life". The "You Are Here Hat", a giant, red baseball cap with an image of the large circular graphite "Mark" series sewn on, references an artist's "team" becoming his or her identity. These works speak of a larger than life desire and incessant drive to make one's mark.
The viewer winds through a trail of cast resin, suitcases, book sculptures and a towering pile of moth eaten laundry entitled, "Cycle"— vestiges of our mundane human story.
Finally, the oval "Kingdom" and "Perennial" (foam and straw) series reflect images of fallen mythic civilizations and sad floral arrangements, pathetic constructions of foam and straw, vestiges of the vicious cycle of the search for incessant self-satisfaction. Bringing one to contemplate life's ultimate meaning and negotiate, the bigger questions.