Featured Artists:
Jeana Baumgardner, Bug Davidson, Robert Jackson Harrington,
H I X X Collective (Rachel Crist and Daedalus Hoffman), Katy Horan,
Masumi Kataoka, Olivia Moore, and Teruko Nimura
Curated by:
Sarah C. Bancroft & Andy Campbell
opening reception: saturday, june 19, 6-10pm
exhibition dates: july 19 - august 10, 2014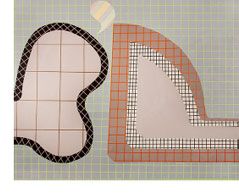 Jeana Baumgardner
Humor has always played a significant role in my paintings, where other worldly events and objects occupy places where nature collides with urban and industrial development. My most recent paintings flirt with the contradiction that a painting can be both playful and serious and are partly inspired by the movement and liveliness in the work of Julio Le Parc, a precursor of kinetic and Op art. That being said, I often use the familiarity of a grid to give viewers visual respite from a myriad of unidentifiable forms and spaces, offering them a foundation to identify with in an unknown world. The color used in most of the work is based on car and home decor from the 70's and 80's, which is comforting to me as it relates to my childhood.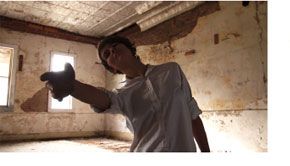 Bug Davidson
Bug Davidson is a motion image artist and film director. Their most recent film, Nothing Like Ivanhoe, premiered in a sponsored screening by Polari Festival's filmmaker assistance program. Davidson received the Puffin Foundation Grant to continue ongoing lens based performance work Buffalo: Rule of Three. Bug has studied at The School of the Museum of Fine Arts Boston, The School of Visual Arts NYC and The Irish Film Center.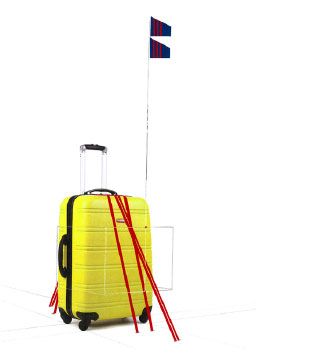 Robert Jackson Harrington
Using mass-produced objects and ordinary materials reconfigured into an art context, my work looks at how we might individualize or personalize things that are inherently not produced to be individual. Through drawings and actualized inventions that imply a function, I explore themes that include the idea of objects' potential and the concepts of what could be versus what is.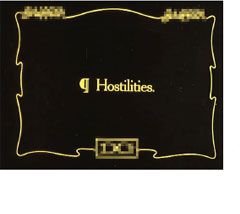 HIXX Collective
Founded by Rachel Crist and Daedalus Hoffman, H I X X is a project-based collective critically surveying the culturescape of the contemporary American South. Confronting the forces of globalization and pastoral nostalgia, H I X X tampers with and tweaks the identity politics surrounding southernness.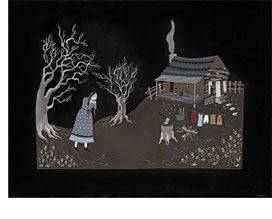 Katy Horan
My work examines female roles and representation found throughout history and mythology. I pull from a variety of sources, using mixed references and visual fragments to construct new variations of recurring figures and re-imagine familiar narratives. I intend the image to be at once identifiable and ambiguous, inviting the viewer's imagination and personal associations to inform their interpretation.
My process begins with research and study. I pull visual inspiration and ideas from a wide variety of sources including film, literature, folk art and music. I then rearrange these fragments of imagery and information to create paintings, illustrations and drawings. This process allows me to explore an array of interests that range from Victorian spinsterhood to classic ghost stories to the archetypal witch figure. Most recently, my research has focused on folk superstitions and witch tales from the Ozark and Appalachian regions.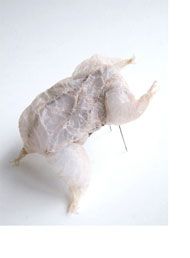 Masumi Kataoka
I am working on jewelry that is both composed of animal intestine and at the same time, refers to animal/insect parts. This has evolved from my interest in why children/people use stuffed animals for security, why many children's books use anthropomorphized animals/insects, and why humans have used animal/insect motifs symbolically throughout history. I like the use of animal intestine because it comes from inside where our emotions metaphorically reside, and how they can be brought out as objects relating to the body—jewelry.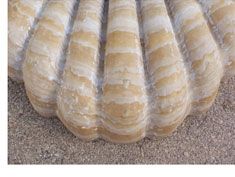 Olivia Moore
Using mass-produced objects and materials in and as the inspiration for my work, I alter these items to form a new narrative. Individual works from a collection are curated to create installations referencing place. These locations are dependent upon the objects to generate the context. Recently returning to forms associated with the beach, I have become interested in our desire to represent nature in the design of commercial goods. I was particularly intrigued in the generic form of the shell used in this work for its reference to the natural world while being so far removed from it.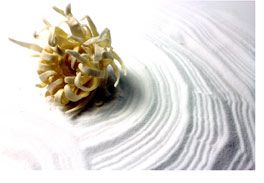 Teruko Nimura
I am interested in the ways that collective memory, perception, and identity are formed through shared events, ritual, and ceremony. Using personal experiences and traditions of Asian, Asian-American, and Indigenous cultures as inspiration, I create participatory installations, sculptural objects and two dimensional works that aim to facilitate reflection and social interaction. Among the goals for my work are to memorialize significant moments, emphasize interconnectedness and commemorate the beauty of collaborative efforts.