Elizabeth Chiles | Time Being
Opening Saturday, August 28, 7-10pm (Masks are required)
Exhibition Dates: August 28 – October 3, 2021
Gallery hours: Saturday & Sunday 12-6 or by appointment (Masks are required)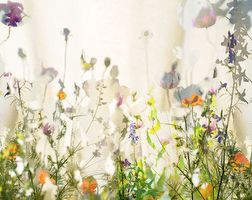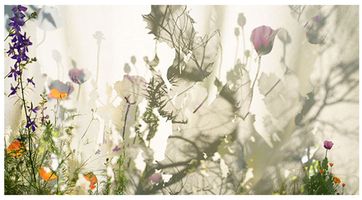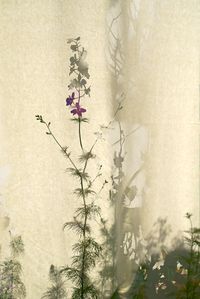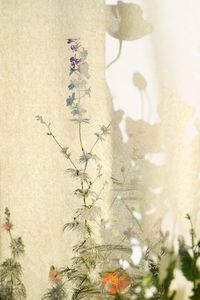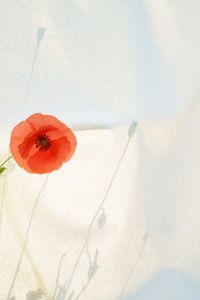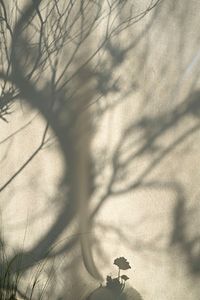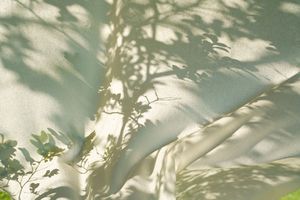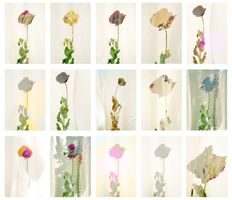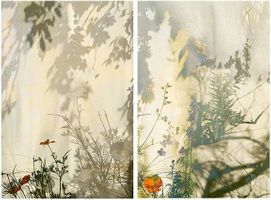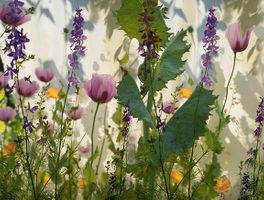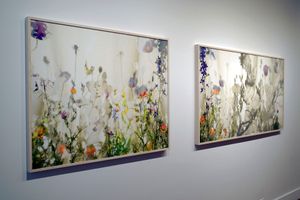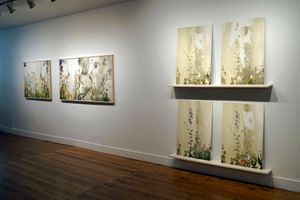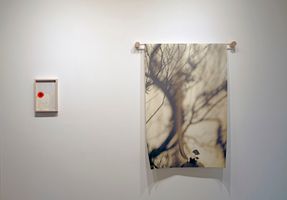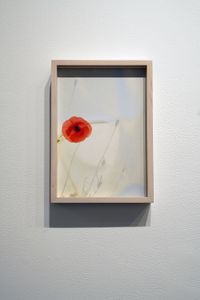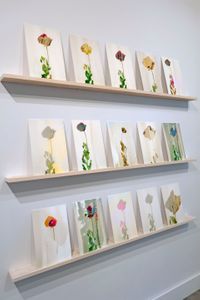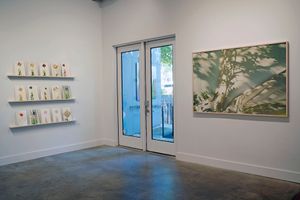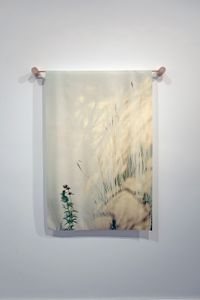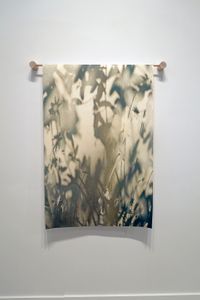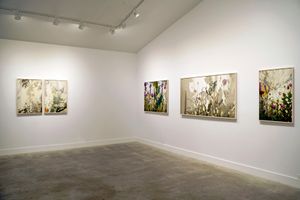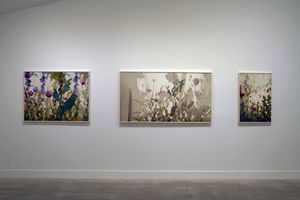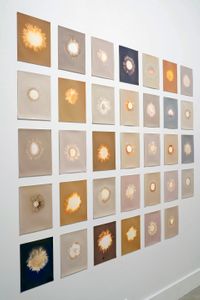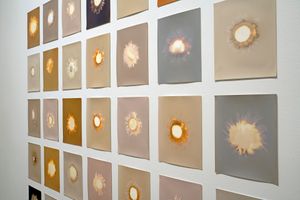 What did the mountaineer-mystic W. H. Murray say after being released from years spent in German and Italian POW camps? Find beauty, be still. – Robert Macfarlane in Underland
Time Being is a body of photographs and photographic collages I made during the Covid pandemic. Likely caused by the horrific mistreatment of animals in an unregulated meat market, the pandemic raises questions about the pace of our lives and the damage that we do by separating ourselves from the rest of nature. These questions inform the making of the work in Time Being, which embraces rest, recovery, and the fabric of communities during a time when I found that tuning in more deeply, and caring for the ecosystem right around me - one that includes my family, gardens, creeks, neighbors, animals and myself - offered me a sense of peace and purpose, and a closer view of what a more sustainable future might look like.
Everyday I take a walk, sometimes multiple times a day, along an arroyo in my neighborhood. During the pandemic the walk and time on the arroyo became even more significant as the thread that connects my home and life to those in our neighborhood community.
The long wall at grayDUCK mirrors the shape of the arroyo and in preparing for the show, I began to think of the show as a walk itself. The exhibition, Time Being, can be seen as a walk, slow and meandering, through a series of repeated forms that came in and out of view on my walks and do the same in the exhibition.
When I began making work last March I photographed a range of plants and flowers in my garden, on the arroyo and in our neighborhood, but once the poppy entered the picture, it took over.
Poppies hold a magical place in my psychic imagination. I'm interested in the medicinal properties of poppies and their mysterious beauty. Poppies are dominant in my garden and in a friend's that I visited and photographed numerous times during the pandemic. All of the work in the show is made from images I made in our two gardens, which incidentally bookend my walk along the arroyo's abundant plant life and limestone creek bed.
A fabric backdrop silhouettes the plants behind it and offsets those in front, the weave of the cloth holding all three spaces at once. Light and shadow move through and are projected onto the material – the resulting image is collaged together onto a flattened plane, at once porous and solid - a near monochrome with bits of color from poppies and larkspur.
Inside of some of the flowers are images of other flowers; a dream within a dream.
One aspect of being in a pandemic induced quarantine is that I realized that there is no such thing as alone. I found that even in quarantine, or maybe even, especially in quarantine, as in wartimes, our reliance on one another for our basic needs and spiritual well being comes into sharp focus. The best chances for health, happiness and recovery are through our care and cooperation.
Time Being builds on the concepts of warp and weft, present in previous bodies of work, signifying embodiment and connection. Using a found piece of fabric yardage as a backdrop, the metaphorical merging of ideas and encounters, becomes a physical presence in this work. The cloth becomes a character and is the mesh onto which the images are grafted. With it, the plants become more visible as does my hand; their interaction and mutual shaping meets in the weave of the fabric and in the collaging process. What is presented in our co-authored experience, as the plants we are so very reliant upon shape me and I shape them. The work is printed on a rice paper with a similar weave to the cloth.
I felt introspective during the year or so that the works were made, and the palette of the work suggests that subtilty; cueing listening more than talking. A notable exception is the grid of poppy collages entitled, Poppies Seeing Poppies. Exuberant and surreal, I collaged colorful flora into poppy silhouettes in variations and iterations, reflecting the abundance of poppies around us as well as the joy they brought and onto which we projected our inner lives.
As with many of my projects and exhibitions, works are presented in a variety of ways in the exhibition to emphasize a range of experiences. I chose to hang works on dowels or directly on the wall at times to emphasize the atmospheric openness of our encounters with nature. Some works are mounted and become tablets or sets of cards leaning against the walls on their wooden shelves. Still other work is framed; to my mind, speaking to the thingness of the objects being presented. Echo the Sun and Poppies Seeing Poppies are made and presented serially as I felt the insistence of repetition and abundance in both works. Each format is a system created out of phenomenological experiences and brought into form with those experiences guiding their presentation.
The exhibition is grounded in a piece called Echo the Sun, an installation of 34 lumen prints of the faces of sunflowers.
Through their hours-long exposures to the sun, each sunflower becomes a glowing, celestial object, ghostly in glowing whites and subtle color on traditional dark room paper. Petals are solar flares.
Installed in a 5 high x 7 wide grid, they form a cosmic calendar of sorts, recalling when time was understood by the cycles of the sun.
Echo the Sun, speaks directly to the repetition of pandemic days as well as the need I have for release, connection and higher inspiration. The prints are made from sunflowers that voluntarily appeared and took over an area of my garden during the pandemic. For me, these star-shaped flowers, reinforce our cosmic connection; pointing as much to the sky as to the gardens nearby.
Walk, dream, remember, constellate, connect.
Bio: Born in Austin and raised in Houston, Texas, Elizabeth graduated with a B.A. in Art History from Columbia University and an M.F.A. in Photography from San Francisco Art Institute. Her work has been widely exhibited, including Over Time, a solo exhibition at Pump Project nominated for best solo show in Austin 2015–2016, 15 to Watch at the Austin Museum of Art (now The Contemporary Austin) in 2011, The Texas Biennial in 2011, and in 2013 with the collective Lakes Were Rivers, and The Collector's Guide to New Art Photography, organized by Humble Arts at the Chelsea Art Museum, New York. Her exhibition Weave at grayDUCK Gallery earned her a nomination for Best Artist in the 2017–2018 season.
Elizabeth taught theory and photography at The University of Texas at Austin, Texas State University, and Southwestern University for six years. She served on the Board of Trustees and was co-chair of programming at the Austin Center for Photography from 2008–2015, and has served as a mentor to several young artists and a juror on a number of grants and awards panels. She is the recipient of City of Austin arts grants from 2014–2021.
This project is supported in part by the Cultural Arts Division of the City of Austin Economic Development Department. Este proyecto es apoyado en parte por la División de Artes Culturales del Departamento de Desarrollo Económico de la Ciudad de Austin.