Featuring the "Eyes Got It" Winner
Jason Webb
opening reception: friday, july 26, 7-9pm
exhibition dates: july 26 - august 25, 2013
During the 2012 East Austin Studio Tour, Salvador Castillo brought back the 3rd annual "Eyes Got It!" competition. Riffing on the ever-increasing number of reality television creative competition shows, this Austin-spun event featured a panel of local arts professionals offering critiques of artists' work in front of a live audience. After three rounds of increasingly tougher critiques, a winner was announced and Jason Webb was awarded a solo exhibition at grayDUCK. We are proud to feature Jason Webb and his highly detailed acrylic paintings in his first solo show.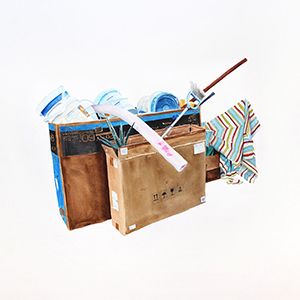 Jason Webb
Bulk Collection is a confluence of two distinct series of paintings; One I've entitled 'Discard Piles' and the other simply, 'Collections'.
DISCARD PILES
'Discard Piles' is a series of paintings which take as their subject matter piles of bulky trash kicked to the curb for city collection and disposal. These found assemblages only exist for one day; piled high on Sundays, and hauled away on Mondays. I spend my
Sundays driving through unfamiliar neighborhoods, photographing the once private, now publicly expended possessions of strangers. From those photographs, I studiously paint select piles isolated against clean, white backgrounds. Individually, every pile is a unique glob of colors, shapes, and textures; organized or disorganized based on the unknowable whims or personality of their former owner. When viewed as a series, the piles present anthropological findings. Patterns emerge, with certain objects undeniably common: cheap plastic toddler toys, rotting lumber, leaky garden hoses, old mattresses, stained rugs, and unsalvageable furniture. Other objects are noticeably absent: appliances, grills, lawn mowers; basically anything with a motor or made of metal. On collection days, I see these absent objects stacked high, skating past in a flurry of rattling trailers towed by distressed pickup trucks. Fundamentally, this series is concerned with impermanence and the careful examination of possessions exhausted of their value.
COLLECTIONS
'Collections' is a series of paintings which take as their subject matter sets of objects accumulated and cherished by an individual. With this series, I intend to explore passion, and objects which have meaning in someone's life. I begin by seeking out collections through friends and acquaintances, and documenting them in a studio photography tradition. While photographing, I have the opportunity to discuss the history of the collection with the collector. I listen to stories associated with specific items; I discover what matters to this person, their taste, and their favorite things. From those photographs, I paint the collection evenly allocated across a white background, isolated from visual context. Inherent to being a collection, the pieces relate to one another. They share colors, shapes, materials and exhibit variations of common features. This series is a departure from, or counterpoint to past series which celebrated valueless things. Here, I examine possessions which have intense personal value.