Brittany Ham & Justin Korver | THE CHASE
Opening: Saturday, April 29, 7-10pm
Exhibition Dates: April 29 – May 28, 2023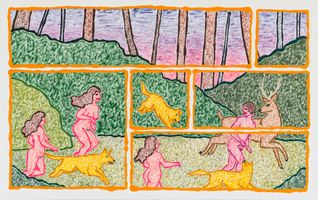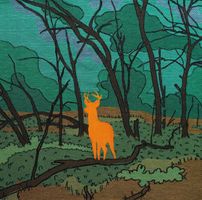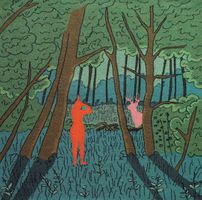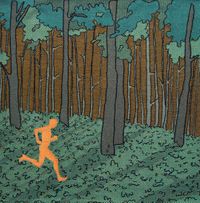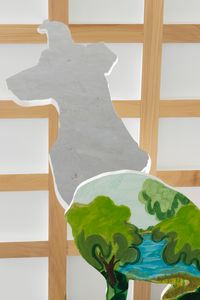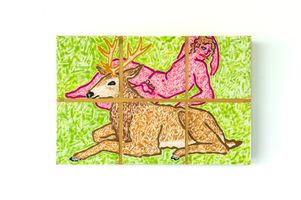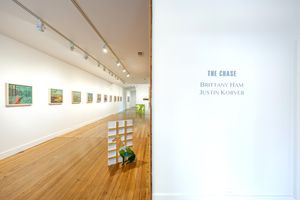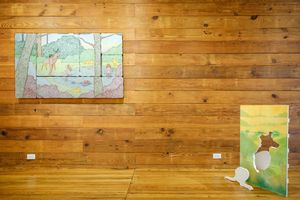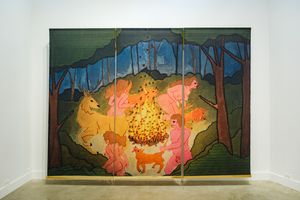 In this exhibition, The Chase, we explore the narrative structures of European tapestries. We are drawn to the tapestries created before the Renaissance due to the interesting ways in which they arrange space and render the figure. In our examination of these pre-modern tapestries, we found ourselves drawn to one of the most common central metaphorical narratives: The Hunt.
Often pre-modern tapestries presented hunting as an allegorical reference to the relationship between men and women, with this relationship conventionally representing men as masculine predators actively pursuing the passive feminine prey. Our work inverts this tendency and associates the feminine with the hunting dogs and the masculine with the stag to subvert historical depictions of gender roles. We have structured the exhibition in such a way that we introduce setting, character, and plot through a series of 2-dimensional and sculptural works. The narrative is resolved in a monumental fabric piece, creating a space for alternatives to the masculine-feminine binary. We are offering a contemporary interpretation of the hunting narrative that integrates our present understanding of the ambiguity of gender.
As individual artists and collaborators, we are both interested in gender and how it is enacted in our world. Our personal studio practices are distinctly different, but in collaborative art-making we have experienced a great amount of freedom. We have found immense value in the unique perspectives that we each bring to this work, and have been thrilled at how together we have been able to accomplish things that we could not individually.
As the exhibition displays a desire for a new understanding of gender within societal narratives, our collaborative art practice likewise reflects a championing of communal creative experience that diverges from the conventional model of isolated creative practice. We hope that viewers experience the same playfulness, humor, and joy that we encountered as makers.
Brittany Ham
Brittany Ham is an artist and educator based in San Antonio, Texas. She graduated with a BFA in painting and a BFA in communication design from Texas State University in 2012, and graduated with her MFA in studio art from the University of Texas at San Antonio in 2016. She teaches Art at Texas A&M University- San Antonio.
Brittany has exhibited internationally in South Korea, Germany, and the United States, and her work has been featured in publications such as New American Paintings, Friend of the Artist, BE Magazine, and VAST Magazine. In 2020 she was the spring artist-in-residence at the Künstlerhaus Bethanien International Studio Program in Berlin Germany with support from The Contemporary at Blue Star. Her art practice explores conventions of historical painting, feminine experience, and figuration.
Justin Korver
Justin Korver is an artist and educator living and working in San Antonio, Texas. He is originally from a small town in the northwest corner of Iowa and the plains of home taught him to love minimalism. He moved to Holland, Michigan to complete his undergraduate work at Hope College. While in Michigan, he was influenced by mid-century design and discovered a passion for hardware stores. He also lived and worked briefly in New York through the N.Y.C.A.M.S. program where he interned with Phoebe Washburn, an influence to his studio practice. After Michigan, he moved to Texas to pursue his MFA from the University of Texas at San Antonio where his thesis focused on the critique of the social construction of masculinity.
Currently, Korver teaches as a Senior Lecturer of Art at Texas A&M University- San Antonio. He has exhibited his artwork extensively with recent solo exhibitions at Blue Star Contemporary and Commercial Gallery. He has also participated in artist residencies at the Kunstlerhaus Bethanien in Berlin, Casa LÜ in Mexico City, and Rockland Woods outside Seattle.
Collaboration Between Brittany and Justin
In 2018, Brittany and Justin created their first collaborative exhibition at Clamp Light Studio and Gallery in San Antonio. The exhibition was titled, Boys with Feelings, and Girls without Them, and featured a group of small co-authored sculptures. Based on the success of those works they developed a co-authored exhibition, The Hunt, that was displayed at Charles Adams Studio Project in the summer of 2021. This exhibition was focused on the allegorical characters of medieval and renaissance tapestries depicting the hunt.
The current exhibition, The Chase, at grayDUCK Gallery, builds on their earlier co-authored works. The newest pieces in the exhibition place the characters of women, dogs, men, and stag in collaboratively drawn landscape settings. These can be seen in eleven new woven tapestries and a new relief sculpture that join the original narrative depicted in The Hunt.