Ariel Wood | raze
Opening: Saturday, August 26, 7-10pm
Artist talk: Saturday, September 16, 2-3pm
Exhibition Dates: August 26 – October 1, 2023
Gallery hours: Saturday & Sunday 12-6 or by appointment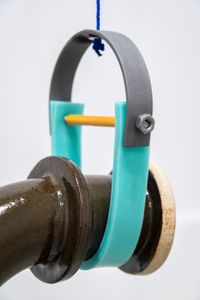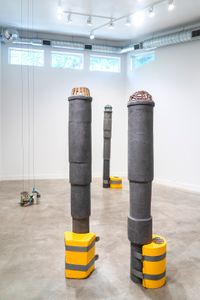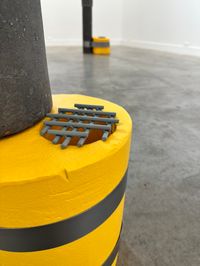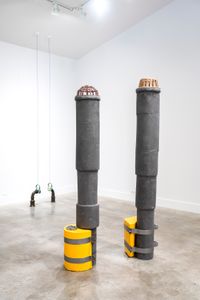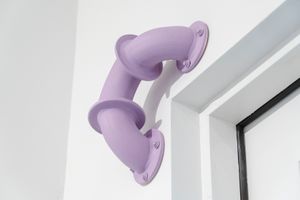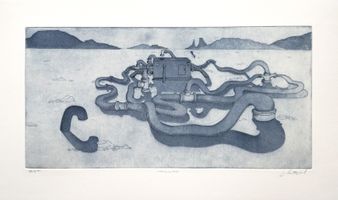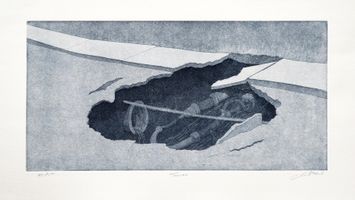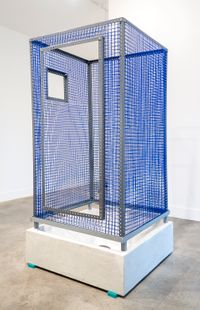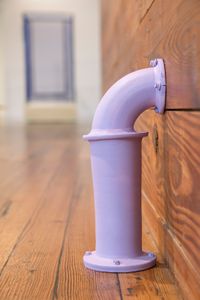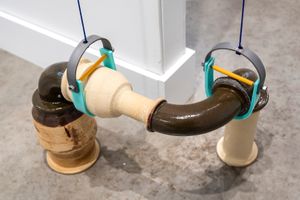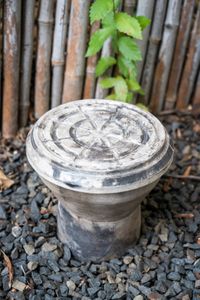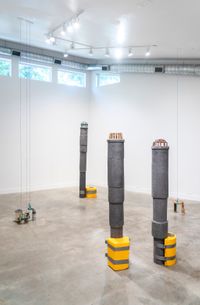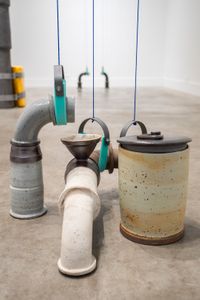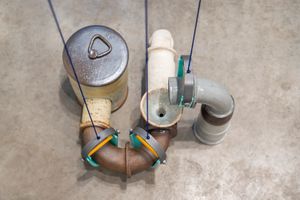 raze is an exhibition centering bodily experiences of installation, deconstruction, extension, alteration, looking, and being seen.
Raze, as in "to pick clean; to tear down; level to the ground," becomes directionally complicated when what is being destroyed is below ground level, or perhaps hanging from the ceilings. To bring it to the ground may not be an act of destruction; just as being shaved clean might feel like an act of rebirth.
Ariel Wood makes objects and structures evoking plumbing and drainage. This system of infrastructure is inherently physical — its fluidity requires the utmost connection between parts — as well as political. How the human body encounters a bathroom, and more specifically a public restroom, is especially charged as these spaces purport to demonstrate gender, intimacy, privacy, and hygiene. This mix of physical materiality and sociopolitical pressures gives plumbing an implicit set of relationships that Wood works to manipulate, emphasize, and transgress.
Passing for art and passing for infrastructure, Wood sees much of their practice as embodied slippage. The forms resemble elements of plumbing, yet are each made by their hands, and thus are not fully symmetrical, flush, or fitted. This concept—passing—is key to their practice. Passing has a long and fraught history in the queer community and often specifically relates to trans bodies, and gender assumption, yet can also function in relation to race, class, etc. Passing as a concept acknowledges the performance of these attributes, the way our actions, aesthetics, and attitudes may signify certain aspects of our personhood. Passing details a level of fabrication that can be awkward at times and flamboyant at others—below the radar or proudly declarative. Wood's work plays within this performance, initially reading as familiar and ubiquitous, and on closer inspection, revealing itself to be particular, modeled, and fallible; possibly functional, yet not functioning. Perception pulled apart, rearranged, slowed down. Perhaps these qualities can then extend beyond the art object, to our built environment. Raze it to the ground, begin anew.
BIO:
Ariel Wood (b. 1994, Pasadena, CA) is a Texas-based artist by way of California and Wisconsin. They received a BFA in printmaking and drawing from The University of Wisconsin, Madison 2016, a Post-Baccalaureate Certificate from Santa Reparata International School Of Art, in Florence 2016, and their MFA in Sculpture from The University of Texas at Austin 2022, where they were the recipient of the Lomis Slaughter, Jr. Endowment Scholarship In Sculpture and the Continuing College Fellowship. In 2022, Wood attended Watershed Ceramics' Summer Residency and in 2023, they were a finalist for the Alice C. Cole Fellowship. Ariel Wood is a sculpture artist, educator, and member of MASS Gallery. They have exhibited their work nationally and internationally in Wisconsin, Illinois, Texas, New York, and Florence, Italy.