David Ball, Jennifer Davis & Megan Kimber
opening reception: friday, february 22, 7-10pm
exhibition dates: february 22 – march 30, 2013
"A Certain Reality" explores the spaces between reality and imagined perceptions, where characters bear witness to an internal narrative of memories and relationships. This exhibition features three artists that create delicate, yet complex ethereal landscapes and characters, including mixed-media collages from David Ball and paintings from Jennifer Davis and Megan Kimber.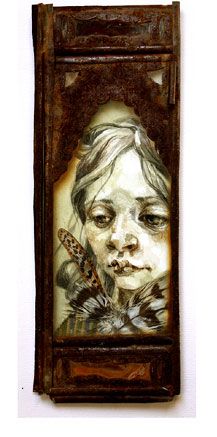 Megan Kimber
Many of my summers were spent in upstate NY. My grandparent's house was out in the middle of nowhere, near a rocky waterfall and a random abandoned bus way out in the middle of the woods. I started loving the light and energy of the colors in this environment at dusk; everything was lit by a calm bluish light. As the minutes went on, things became less recognizable, more open to interpretation. Perhaps more otherworldly or spooky, if you will. The colors at that point in the day are a primary influence on the palette I have chosen to work with over the years.
I like to take the more subtle approach to tell the story, often visually embedding applicable old-fashioned terminology in the images (i.e. don't put all of your eggs in one basket). My paintings are open-ended to the extent that the viewer can make up their own story. I love hearing someone else's interpretation of a painting. If one of my images touches someone enough to cause an emotional connection, reaction, or memory, I feel like I have done something very, very right.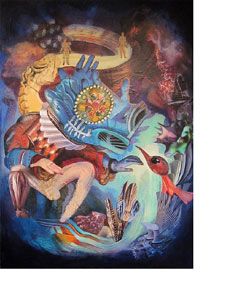 David Ball
David is a collage/ mixed media artist located in San Francisco. His interests range from observed relationship dynamics and social commentary to more introverted personal works, all in surreal, otherworldly landscapes driven by character and narrative. David creates both fine art and illustration works with the help of his talkative cat, Cho Cho and lots and lots of coffee.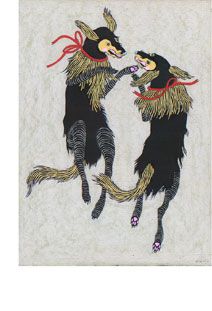 Jennifer Davis
My current work is a series of whimsical and emotional narrative portraits that attempt to portray my own experiences and desires and relate them to more universal truths about the world we live in. The animals, objects, people and places depicted each have unique meaning that relates to my own life and experiences but attempt to communicate something subtly recognizable and personal for the viewer as well. Each story is played out in a dreamland that somehow feels like home. The surreal Candyland-like exteriors and unbridled playfulness hint at a darker undercurrent just below the surface. Such is the delicate balance between the subjects more bestial natures and their more humane and generous qualities.