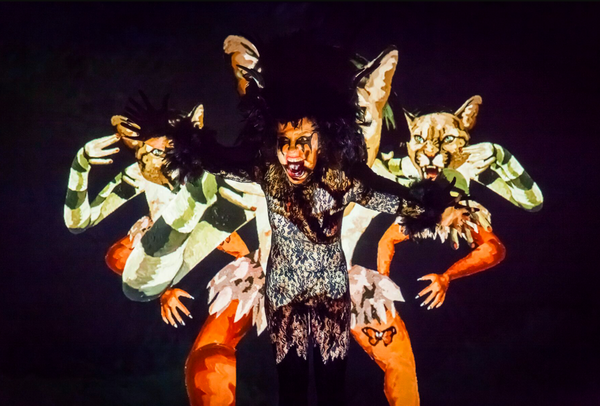 Yuliya Lanina | Misread Signs Performance
May 17, 2019 7pm, May 18, 2019 7pm, May 19, 2019 3pm
Seats will be limited. Follow the links below for your free ticket:
Friday, May 17, 2019 at 7:00pm https://www.brownpapertickets.com/event/4237037
Saturday, May 18, 2019 at 7:00pm https://www.brownpapertickets.com/event/4237060
Sunday, May 19, 2019 at 3:00pm https://www.brownpapertickets.com/event/4237065
Duration: 16 minutes
Performance and visuals by Yuliya Lanina
Original music by José Martínez
Choreography by Andrea Ariel
Technical support by Theodore Johnson and Michael McKellar
"Misread Signs" is a multimedia performance by Yuliya Lanina featuring animatronic sculptures, three channel projected animation, music, and movement. It explores the effects of trauma on human psyche.
Donned as one of her feathered creatures with antlers, Lanina performs within the projected animations, illuminated solely by her anthropomorphic sculptures – skeletal birds with human baby heads and phosphorescent eyes. The animation fills a quarter of the gallery, creating a seamless immersive story.
In the course of the performance, we see Lanina desperately trying to tell us something and being unable to. Based on her personal life story, this piece examines the inability for someone who experienced trauma to express and at times even connect with how they feel.
Lanina's collaborator, composer José Martinez uses recordings of Lanina's voice as his audio material, rendering her deeply personal text and songs beyond recognition while transforming her voice to the extreme in order to convey the urgency of expression.
The piece transcends the particulars of artist's life experience into a universal story of perseverance and asks us to reflect on our connection to ourselves, to our past and to each other.
This project is supported in part by the Cultural Arts Division of the City of Austin Economic Development Department.