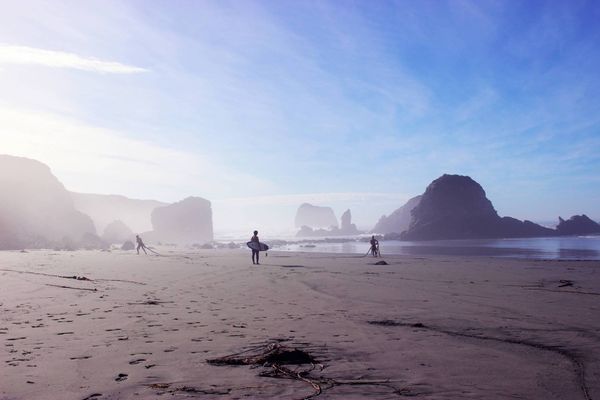 Thursday, May 4, 7:30-9:00
Experimental Response Cinema presents:
Romance, Apocalypse and Moon Landings:
The Twilight Worlds of Kate McCabe
Kate McCabe in Person!
Kate McCabe will be showcasing a decade's worth of her moving image work combining humor in experimental film and premiering her latest 16mm work, You and I Remain. A film inspired by the Anthropocene, You and I Remain is an apocalyptic lullaby, a landscape film mediating on the end of the world. Shot in Big Sur, the Salton Sea and in McCabe's own neighborhood of Joshua Tree, the film shows us a portrait of the world askew with subtle and moving sound design by Jason Payne of Nitzer Ebb.
Kate McCabe (American b. 1972) lives in the desert near the rock-n-roll heaven known as Joshua Tree, California where she founded the art collective Kidnap Yourself. In Philadelphia, her youth was dominated by dance and art where she allegedly danced out of the womb. She is a graduate of Girls' High, the University of the Arts and she obtained her MFA in Experimental Animation from the California Institute of the Arts under the innovative Jules Engel. She is an award winning independent filmmaker who has shown films globally since 1995 in both film festivals and galleries and the occasional guerrilla drive-in. She is most re-known internationally for Sabbia, her first feature film, a visual album for stoner rock prince, Brant Bjork. Her current work includes paintings, photography, short fiction, and art books. Her popular sketch comic book "Mojave Weather Diaries" has produced 4 books in the series and counting. McCabe has taught film at CalArts and UC San Diego and has worked with some of Los Angeles' most prolific independent filmmakers including Eli Roth and Pat O'Neill.
"Kate McCabe's works are funny and sweet personal observations of our twilight worlds. Worlds where portraits of places and emotions are the kinetic sublime- where we as viewers are transported betwixt and between, hovering – our feet grounded on earth, our heads in the clouds. The everyday scene, a moving lyrical event functioning as a tribute to beauty and our lucid spirit. These short films are like private conversations sharing a secret and a dream."
PROGRAM:
Milk and Honey 16mm color, sound, 15mins, 2004
Darling 16mm on video, color, sound 4 mins, 2011
Sabbia 16mm on video, color, sound, excerpt 15 min of 80, 2006
My Sweet 16mm on video, color, sound, 4 mins, 2013
Song for Pickles Super8 on video, B&W, sound, 3 mins. 2013
You and I Remain 16mm, color, sound, 15mins, 2015
My Friend 16mm on video, color, sound, 7 mins., 2015
Portraits 16mm, color sound, 8 min, 2001
There Are No Shadows in East Berlin digital video, color sound, 10 mins 2017
Total running time 82 minutes
More info: http://www.ercatx.org/romance-apocalypse-and-moon-landings-the-twilight-worlds-of-kate-mccabe/
Suggested donation $7 general / $5 students