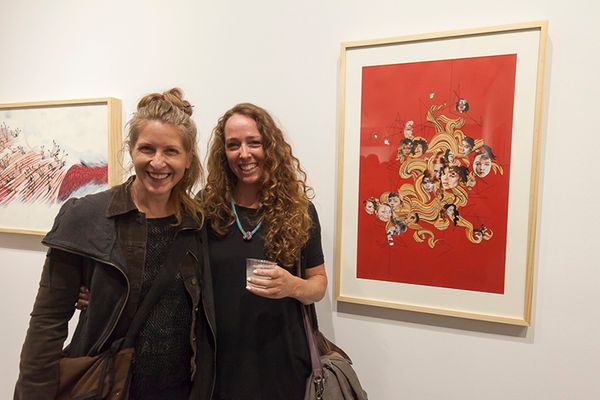 Sunday, March 19, 2:00pm
Artist Talk with Jana Swec
Congitopia
The work in this series is an exploration of the unexpected when collaborating on the visual expressions of shared ideas and dreams.
The process of collaborative art making feels like trying to solve a puzzle with infinite paths one could take, but they all lead to a solution. When collaborating on a piece, you do not begin with a finished product in mind; It's about the process of perspective; It's about weaving and integrating ideas and concepts together. There's a freedom and palpable sense of adventure when making art this way. It teaches us how to let go of control and embrace the unknown. It surprises and forces us out of our comfort zone. It opens doors and illuminates paths that would not have been visible otherwise.
Collaborators: Abi Daniel, Will Gaynor, Suzanne Koett, Shea Little, Cai Littleswec, Olive Littleswec, Jude Littleswec, Aaron Michalovic, Julie Swec, Joe Swec, Alexandria Valenti, Cherie Weaver, Jon Windham, Adam Young
Bio
Jana Swec was born in Berkley, California and received her BFA at the School of Visual Arts, NY. Swec is a founding member of the non-profit Big Medium, the East Austin Studio Tour, and The Texas Biennial. She is a part of an artist collective called Sodalitas that began working collaboratively in 2002. This group has won a number of awards including; Best of Austin Awards, Best New Art Collaborative, Austin Chronicle Top Ten Artists and Austin Critics Awards Art Community Leadership. She has exhibited nationally.