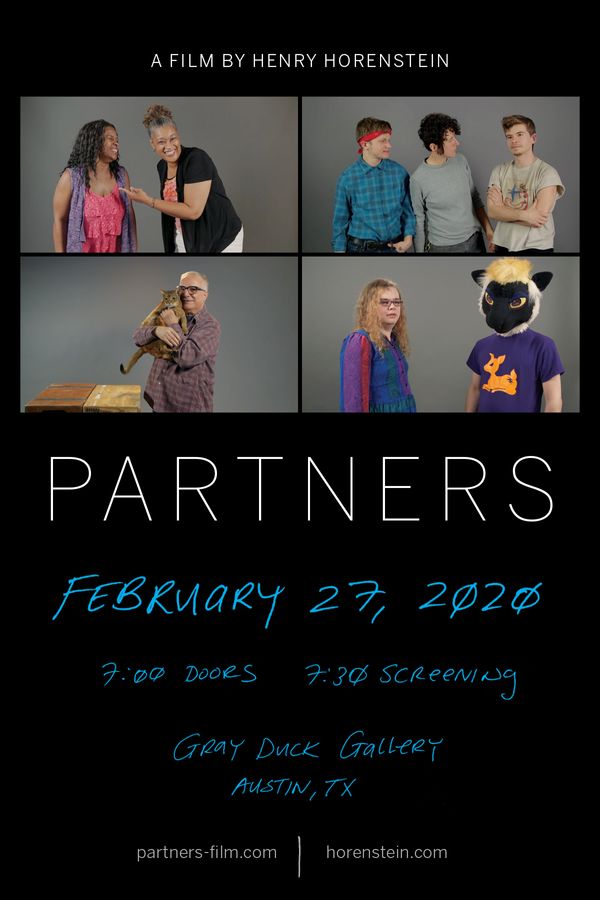 PARTNERS | A FILM BY HENRY HORENSTEIN
February 27, 2020 7:30pm
PARTNERS is a feature-length documentary about relationships. It's a simple idea, really. PARTNERS of various stripes get together and talk about how they met and how their relationship works. They talk about themselves and their journeys together.
The film uses short clips from 15 interviews, carefully woven together with both poignance and humor. It is not scripted. The words and thoughts are expressed on the spot by the interviewees; they are honest and extemporaneous with only occasional prodding questions from the director. After closing one interview session, a woman told her long-time partner "I never knew you felt that way."
The relationships are widely varied. Some are fairly conventional while others are wild. But all the partners share so much in common—their tastes, their personal philosophies, their dreams. And most importantly, their love for each other. In the end, we get it: If it's okay with them it's okay with us. At its heart, PARTNERS is about acceptance. It's a celebration of choice.
BIOGRAPHY
Henry Horenstein has been a professional photographer, filmmaker, teacher, and author since the 1970s. He studied history at the University of Chicago, and earned his BFA and MFA at Rhode Island School of Design (RISD), where he studied with Harry Callahan and Aaron Siskind.
Henry's work is collected and exhibited internationally and he has published over 30 books, including several monographs of his own work such as Shoot What You Love (a memoir), Histories, Show, Honky Tonk, Animalia, Humans, Racing Days, Close Relations, and many others. He has also authored Black & White Photography, Digital Photography, and Beyond Basic Photography, used by hundreds of thousands of college, university, high-school, and art school students as their introduction to photography.
In recent years, Henry has been making films: Preacher, Murray, Spoke, and now Partners, which premiered recently at Boston's Museum of Fine Arts.
Henry is professor of photography at RISD and lives in Boston.