I ONLY KNOW PLENTY
Elizabeth McDonald
opening reception: friday, may 15, 7-10pm
exhibition dates: may 15 - june 21, 2015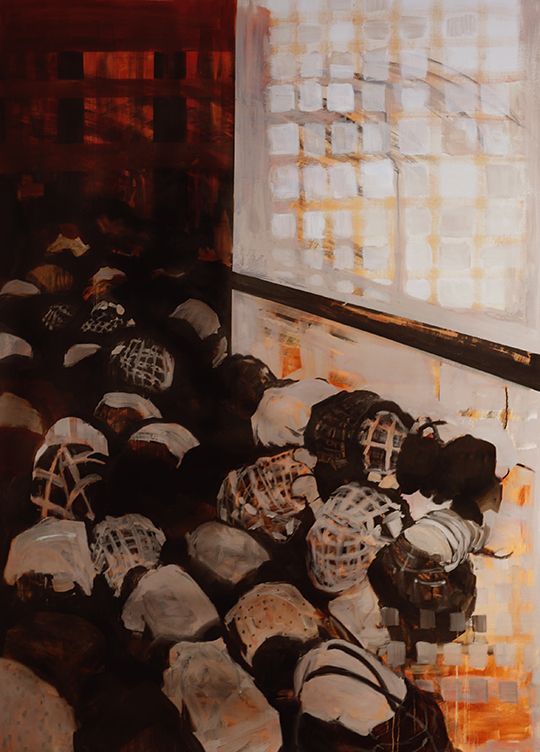 GrayDUCK Gallery is pleased to introduce an ambitious exhibition of new work by interdisciplinary, international artist Elizabeth McDonald. I Only Know Plenty is a cohesive exhibition of several large and small scale paintings, drawings, installations, sculpture, sound, and video each engaging the mind as much as they do the senses. McDonald takes an intentionally anachronistic approach to exhibition-crafting in order to explore a cultural consistency — perhaps a cultural need — to scapegoat and the rituals, acknowledged or unacknowledged, that surround these acts of blame and cleansing.
"From the point of view of the society, scapegoating has three primary components: blame, sacrifice, and purification. From the point of view of the scapegoat these components correspond to shame, harm, and expulsion — at times the most severe form of expulsion, death. I Only Know Plenty addresses the culturally universal phenomenon of substitutionary atonement, or scapegoating, through a variety of conceptual perspectives, artistic media, and subject matter. Through this new body of work, I take my overarching concerns and interests in ritual, its contemporary iterations, and powerlessness, into an emotionally charged exhibition which places the viewer in the position of both victim and victimizer while stripping away many historical and political queues from the imagery that might otherwise allow the viewers a method of removing themselves from the action or a way of turning off what I feel to be an at times jarring empathy." - Elizabeth McDonald
McDonald touches on the evolving modes used to channel these socioinstinctual impulses through depiction and juxtaposition of images across cultures and times: religious/mystic sacrifice, political burning of effigies, paparazzi lead celebrity dethroning, post world war II public shaming and head shaving of female "horizontal collaborators," the oddly parallel public meltdown of Japanese pop star Minami Minegishi, the Grecian pharmakos, the peasant mob of old to the anonymous mob of the social networks. These are presented alongside more subtle works that suggest a quieter unsaid and undemonstrated sacrifice in a more personal less extreme realm; simple yet unnerving visual and audio of daily life, and the blurry pseudo-complicity of passive in-person or online viewing — the temptation of a public sacrifice a click away.
Bio
Elizabeth McDonald was born and raised in Texas. She earned a BFA at the University of North Texas and an MFA at the Glasgow School of Art. Her work has been exhibited widely in the UK and the US at several prominent museums and galleries including The National Portrait Gallery, London; The Walker Art Gallery, Liverpool; Chapter Cultural Center, Cardiff; Macintosh Museum, Glasgow; Matt Roberts Arts, London; Invisible Dog, New York; Blue Star Contemporary Art Museum, San Antonio; The Chalet, Glasgow; 500x, Dallas. In 2010 she was a finalist for five prizes: John Moores Contemporary Painting Prize, Hunting Art Prize (again in 2012 and 2014), Salon Art Prize, second place at The Celeste Art Prize, and winning the BP Portrait's Young Artist Award. Her work has been presented in numerous publications including 500 Portraits published by the National Portrait Gallery in London and The Catlin Guide released at the 2012 London Art Fair. Recent projects include Sehnsucht as part of Glasgow International Festival of Visual Art 2014, Contamination | Pollination at Austin's Pump Project, and a selection of work at Art Alliance Austin's 2015 Art Pavilion.