HEIRLOOM
Adrian Landon Brooks & Megan Kimber
opening reception: friday, october 24, 7-10pm
exhibition dates: october 24 - november 23, 2014
Legacy and heritage are the key influence of this two-artist show featuring mixed media paintings. Ancestral artifacts are incorporated into paintings or used as canvas. While Adrian Landon Brooks samples aspects of a simpler time and graphic inclination, Megan Kimber draws from the natural world and her childhood memories.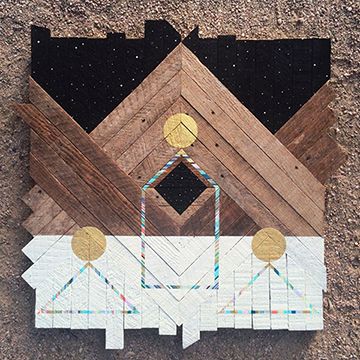 Adrian Landon Brooks
I have always been drawn to a past era, imagery that reflects a simpler time. I grew up rummaging through my grandparents' garage in Houston looking for old oilcans, paint buckets, and catalogs. The artifacts I found there showed detail and style that has long been replaced by digital imitations. The flat logos on rusty cans and illustrations in men's 1950's catalogs served as perfect test subjects for learning how to draw a simple image.
In many ways, I am still creating the same simple and effective images I made when I was a kid. Traditional folk art has been the primary focus for most of my adult life. The emphasis on a single bold line or minimal color pallet continues to serve as a constant challenge. When I strip a painting down to its bare bones it helps me think more intently about the impact of each line or stroke. I find satisfaction in creating simple and concise works that convey universal messages of loss, love and redemption.
I am drawn to sacred art of all kinds, especially art that emphasizes a "savior." Finding my creative voice brought freedom and redemption from everything that ails me. When I am creating work, the outside world is on pause and I can completely let go of all the trials and tribulations of the day. I feel that this is represented in the iconic images I create and is my attempt at paying homage to something greater than myself.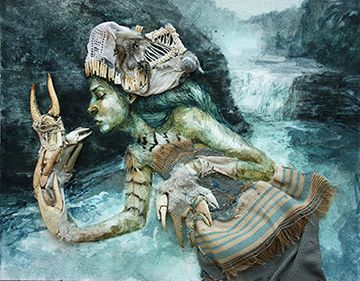 Megan Kimber
These past few years, I have intentionally made my paintings very personal but relayed through images of other characters' lives.
Tintype photographic portraiture from the Civil War era, specifically those of women and children, are a tremendous inspiration to me. Their faces present possess a fearless and quietly proud, stoic state. They gaze and won't back down, there is a fire within them, a quiet one that burns deep and solid.
Imagine a world with these feral children and woman, nurtured solely by nature and not by man-made creations. These subjects are operating on instinct and reverence of nature. They live in a land way out on the outskirts of a world we are unaware of, fairly untouched by modern day civilization. The embrace ritual, they decorate themselves with nature's ornaments. Every day is filled with subtle individual ceremonies. In their portraits, I am capturing a moment of one of these creatures' lives. You are watching their process of a strength undeterred by what is expected of them in the modern civilization.
I paint these intense, moody little characters with delicate curved lines and aged ink washes, which parallel the layers, fault lines and intricacies within each breath and moment of a human being.
I have gone back to collecting small discarded objects and obtaining very old fabric, pins, ribbon, sheets from school readers as I wander through my days. Little by little these found objects thoughtfully choose their destination and merge their way into my paintings. These little bits add curiosities as well as create a more tangible, believable reality to the memory of the person portrayed.