AFTER SOME REFLECTION
Jenny Granberry, Jaelah Kuehmichel & Joe Sinness
opening reception: friday, january 9, 7-10pm
exhibition dates: january 9 - february 8, 2015
"After Some Reflection", featuring work by Jenny Granberry, Jaelah Kuehmichel and Joe Sinness, dissects social undercurrents, personal identities and cultural language. Granberry's detailed watercolor portraits leverage a disjointed sense of walking through your inner mind. Kuehmichel's mixed media paintings explore LGBTQ identity and reveal how a person's space and objects therein point towards an understanding of identity. The vibrant colored pencil drawings of Joe Sinness combines queer icons with thrift store items to create carefully constructed still lifes.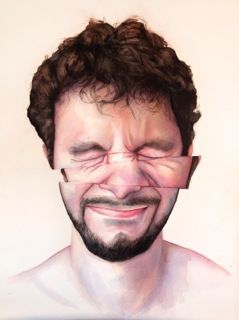 Jenny Granberry
There is a sense of ambiguity in my paintings. The figures exist in a hazy world filled with vague shapes that melt into the white space that exists outside of reality. Each image is a fleeting view of my frame of mind as one idea dissolves to be replaced by another. Taking these ideas and fractured images out of my head and giving them a visual presence allows me to acknowledge my fears, ponderings, or frustrations before letting go of them. It brings me to a point where I can move on and find new issues to wrestle with in a never-ending stream of consciousness.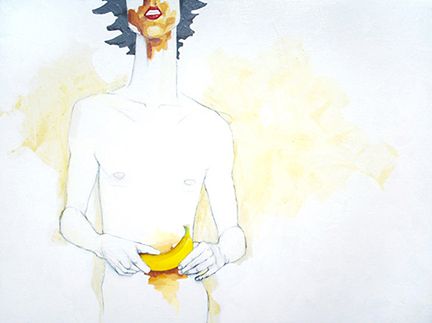 Jaelah Kuehmichel
A series in progress exploring queer identity, sexual power dynamics, and the sociopolitical context of the emerging queer movement. The beauty of the contemporary use of the word "queer" lies in its subjectivity and its absence of a definitive definition. It explores the grey area between commonly accepted binaries such as man/woman, feminine/masculine, dominant/submissive, married/single, right/wrong, and normal/aberrant.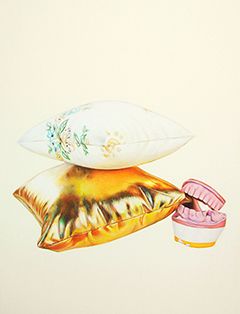 Joe Sinness
In my drawings, cinematic performance and sexual desire is filtered through the genre of still life. Through the process of selecting and arranging objects and subjects that I adore, photographing them, and then re-presenting them in colored pencil on paper, they - the drawings - become yet another type of fetishized commodity. The seductive trappings of photorealistic drawings of staged still lifes become glossy, yet melancholic tributes to queer performance. This performance is a type of strip tease and creates an erotic tension loop between what may be considered the sacred and the profane. I am interested in the preservation of the codes and languages of queer history and culture. Much like coded discourse, the still lifes tease but never fully reveal.