decoy
grayDUCK's sister space, decoy, is a sometimes pop-up gallery within (or relatively near) the walls of grayDUCK Gallery. As an adjunct space, decoy provides flexibility that is not always possible with grayDUCK's long projected exhibition calendar. For decoy, the progression from conception to curation to presentation is greatly reduced, providing an opportunity to show work that is relevant to a particular event, or is only available for a condensed period.
decoy can maintain a nimble calendar with abbreviated shows lasting only a day or a weekend, or work may be displayed concurrently with grayDUCK's typical month long exhibitions.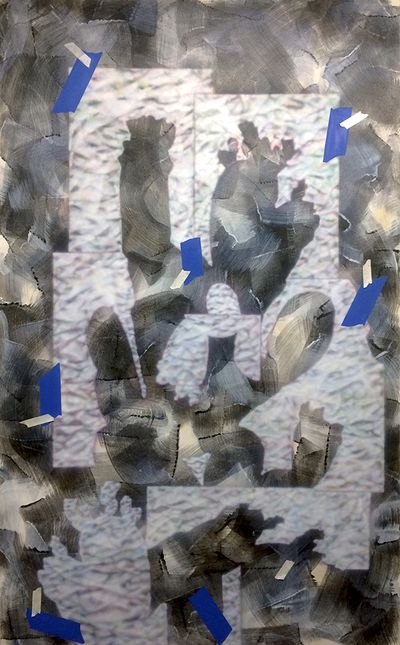 Anthony B. Creeden | Cacti and Semaphore
Opening Reception: Saturday, January 20, 7-10pm
Exhibition Dates: January 20 – February 18, 2018
Cacti, as notoriously hardy, spiked things tend to look harshly figural and exotic when mixed amongst signs of modernity. In my studio, behind the MacBook, lit under LED light, stands this short, defiantly potted, prehistoric life form. A reminder of how things used to be, out amongst nature, before Brita filters and before ISPs. I notice them as I turn almost every corner on my block in Austin too, waving at me indifferently, and in their own way daring us all to screw this whole societal experiment up. "See who lasts then," it kind of mutters. Cacti and Semaphore—the show's title—shares its name with a 1923 painting by Georg Scholz. The artists of Scholz's day have all passed. They float among us now, in the digital images of their work left behind. Today in our painting studios, like in a séance, we ask for guidance, curious of our own fortunes ahead.
Anthony B. Creeden (born Washington, D.C.) holds an MFA in painting from the University of Texas at Austin (2017) and a BFA from The School of the Art Institute of Chicago (2011). Recent exhibitions include Edward Cella Gallery in Los Angeles, CA; the Elmhurst Art Museum in Elmhurst, IL; William Benington Gallery in London, UK; and MASS Gallery in Austin, TX.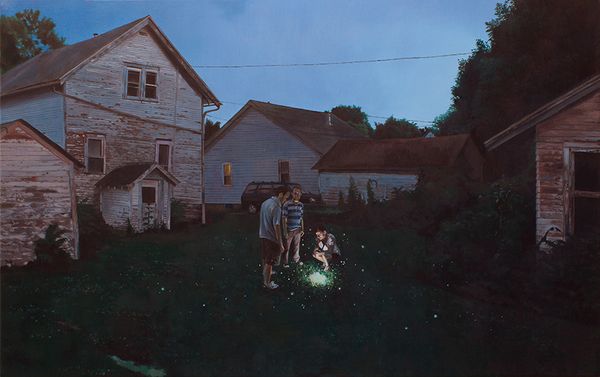 Nate Burbeck
Opening Reception: Saturday, February 25, 7-10pm
Exhibition Dates: February 25 – March 26, 2017
Nate Burbeck is a mid-western painter whose work dances on the edge of surrealism through the delicate balance of American landscapes and ethereal elements. His work echoes a heightened state of suburban middle-class American life, leaving the viewer almost haunted by the story behind each scene. His work, in its dream-like state, leaves the viewer between eras, fascinated by his innate ability to freeze time.
Bio
Nate Burbeck was born in Minneapolis, Minnesota and currently lives in New York City. He graduated with a B.A. in Studio Art from St. John's University (Collegeville, MN) and participated in the Summer Artist Residency Program at the School of Visual Arts in New York. In 2011, Burbeck was part of a collaborative artist group that created a site-specific installation which was featured at the Minneapolis College of Art and Design in an exhibition entitled "Intersections." He has exhibited across the country including, New York City, Minneapolis, New Orleans and Greenwich. In 2015 he won the Minnesota State Arts Board Artist Initiative Grant.